Damnation Festival Is Shaping Up To Be Something Special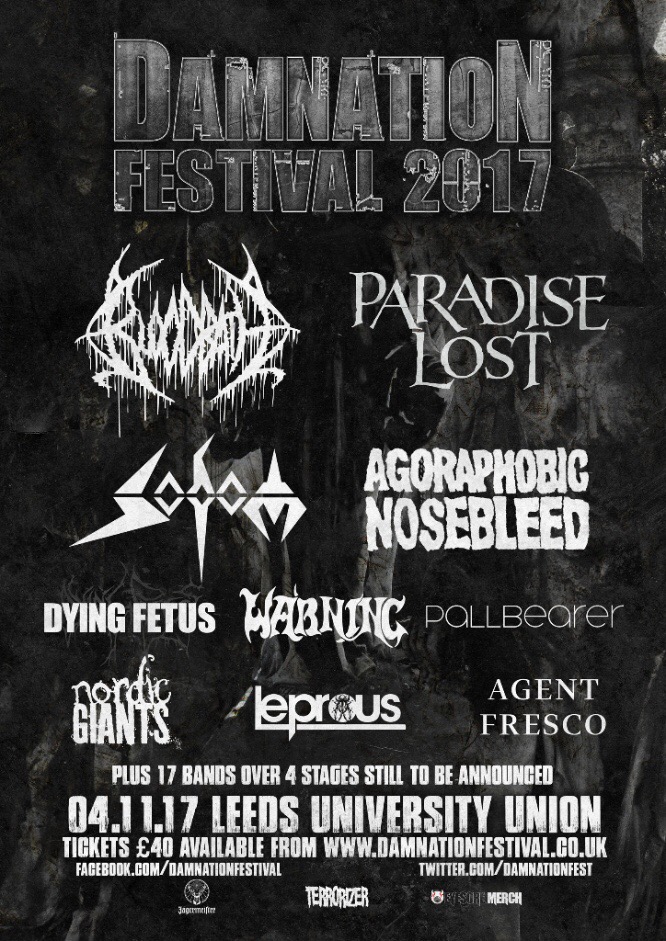 Could this years Damnation be their most eclectic yet?
Every November, locals and if like me weary travellers from London make their pilgrimage to the lands of Leeds' University for the hallowed Damnation Festival. Once again rolling around this November the festival promises to fulfill all metal heads wants and wishes.
Potentially the most eclectic yet headliners of the festival will be the Doom mongers that are Paradise Lost as well as German Thrash maestros that are Sodom, who last I remembered haven't played in absolutely years! The fun doesn't stop there however, newly announced the likes of Icelandic Prog come Post Rockers Agent Fresco will be shedding their light over the festival whilst bringing up the rear in the Prog zone will also be the Norwegian, fast moving Leprous.
With Leprous currently finishing up touches to their new album, you can bet that you'll expect to hear some brand new material on their Damnation date. Nevertheless in keeping with their classic elements of Death Metal, the coup de grace of this year is the bringing together of Bloodbath.
Hardly an easy task, getting the schedules of Katatonia and Paradise Lost to line up would sound like something seemingly impossible yet for a one off U.K. appearance the band will return for Damnation this year to deliver their scintillating brand of unique Death Metal. Also on the Death Metal front, mainstayers Dying Fetus will be heading back over the pond in support of their latest slab of demented agression that is the uncouth Wrong One To Fuck With.
Adding even more fuel to the fire, after their recent UK stint Pallbearer will be returning to wow those who missed out on their Heartless tour with a performance at Damnation tying the year up neatly. Not forgetting appearances to come from Warning, Nordic Giants but most importantly of all Agoraphobic Nosebleed.
Seldom even appearing, let alone in the U.K. the band are tough to get together. Releasing the first of their series of EP's the doom laden Arc, it showed a paradigm shift for the band in taking a slower route towards music contrary to their blistering tunes seen on the likes of Agorapocalypse. Definitely not one to miss out on.
Damnation will be held on November 4th at Leeds Unviersity Union and you can pick up tickets here!