Could Between The Buried And Me Be Touring Colors?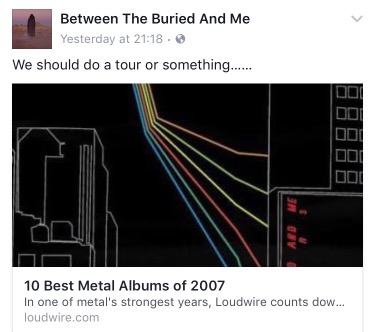 The seminal Prog album that very much launched the band into their own mad stratosphere turns ten this year and are the band hinting at a commemorative tour?
Posting via their Facebook just yesterday, Between The Buried and Me released an article written by Loudwire regarding the 10 Best Metal albums of 2007 with the caption
"We should do a tour or something…"
This would be fantastic timing given that their touring cycle for Coma Ecliptic might not necessarily be coming to an end quite yet but I would imagine that the band will be thinking of new ideas and perhaps a revisit to their 2007 roots might be what they need.
Either way, watch this space.