Avenged Sevenfold To Open Pop Up Shop In London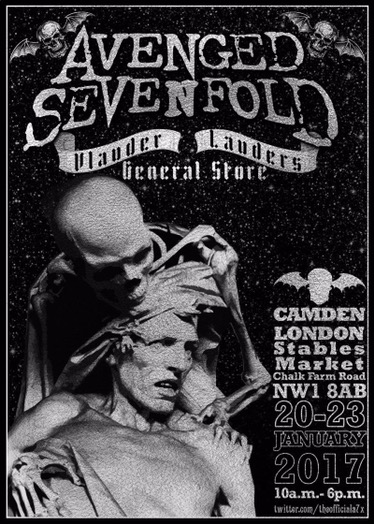 In celebration of their first tour of The Stage, Avenged Sevenfold will be opening a little pop up store in Camden Town, London.
With their headline dates over at London's O2 now closer than ever Avenged Sevenfold have announced that they will be temporarily taking over Vlauder Lauder's general store. Though the band themselves won't be there, it will be a one stop shop for exclusive never before seen merchandise. Along with doing raffles for tickets and meet and greets with the band.
Here is the band's run down of the event!
London –
To celebrate our first official tour of "The Stage," we will be taking over the town with Vlauder Lauder's General Store from January 20th through the 23rd. This pop-up store will include tons of exclusive never-before-seen merchandise and specialty items. On top of that, we will be raffling away prizes and doing giveaways to meet & greets all four days that the store is open. We will also be flying in our friend and acclaimed artist C. Rackam to do an in-store A7X space-themed painting over the course of the four days. You can come and watch him paint, hang out and even buy him a drink. In the end we will be raffling off the painting to a lucky winner. With two huge shows at the O2 arena that weekend, London is officially ours to take over, so come celebrate with us.
Whilst the band will also be bringing C. Rackam over to the store to create an installation in the store of a space themed painting over the course of the four days which will be raffled off too. Now THAT is a way to celebrate appropriately a performance that will be, to coin a phrase, out of this world.