August Burns Red, Between The Buried and Me Announce Tour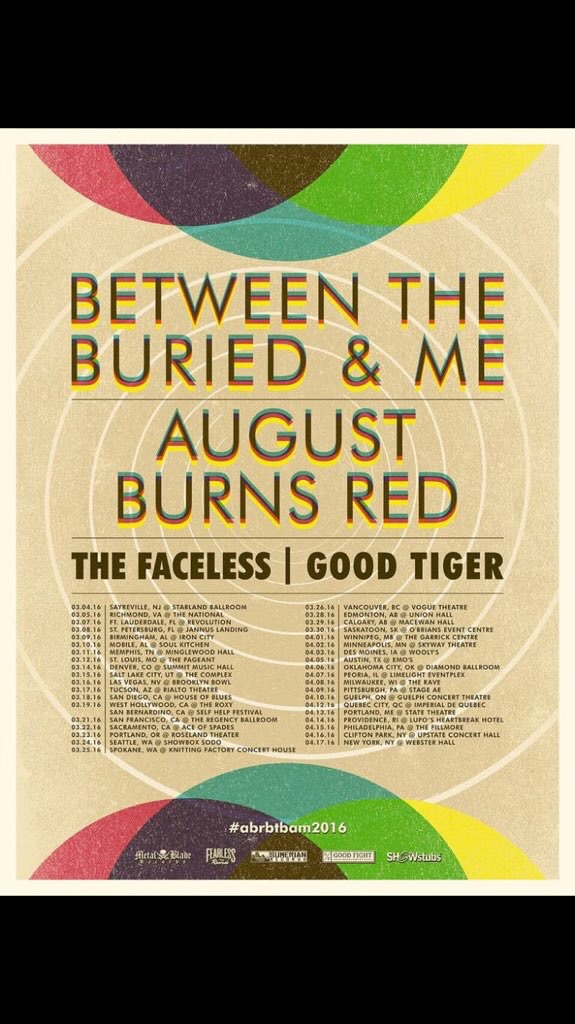 With support from our friends in The Faceless and Good Tiger!
Last year saw the critically acclaimed Between The Buried and Me ascend to heights even higher than before. Releasing Coma Ecliptic, one of our Album's of the Year the record was an absolute masterstroke. Their seemingly endless tr schedule continues in the year of 2016, joining August Burns Red as direct support it will no doubt be a great compromise of the prog aesthetics with the Metalcore mashing of ABR.
However that's not quite it, joining them will be fellow tech metallers The Faceless who seem to have an album in the pipeline. Releasing single "The Spiralling Void" it was met well by fans and critics alike, then heading out on t with After The Burial the band have been indeed putting in the leg work. Finally Good Tiger rounding off the four acts will no doubt be interesting as well, particularly as drummer Alex Rudinger used to be in The Faceless, who mows perhaps there might be some sort of celebratory performance with the two on one of the nights!
Lasting from the 4Th of March until the 17th of April the tour will be hitting all the main locales of the US. Just another reason to get over there!
Tickets go on sal this Friday!