An Interview With: Thomas Winkler (Gloryhammer)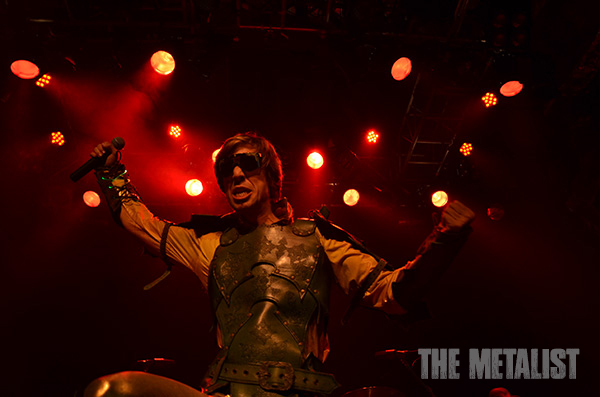 Before the Unicorn Invasion of London we caught up with the man and legend from the Gloryhammer sagas, Angus McFife (aka Thomas Winkler to mere mortals). We stopped him in his journey from the future to ask him a few questions about questing with Gloryhammer, and where their travels will take them next.
Without a doubt Gloryhammer are hot property in power metal right now. What seemed a tounge-in-cheek project at first has expanded into two epic metal masterpieces. The latest being a brand new adventure into the distant future of 1992, where Angus McFife XIII powers through the evils of space. We asked all about the enigma that is Gloryhammer – and to explain some concepts a little bit better than we understood!
Read an extract from the interview here and listen to the full audio interview at the Soundcloud link below.
So Chris has Alestorm, and we all saw Gloryhammer as a side project when he announced it, but now it seems to have exploded into a full time band – was the great response to the project anticipated?
I don't think it was anticipated by anyone. I personally could never have imagined that we would be on tour with Stratovarius 3 years ago…and also when we started the band on Facebook there was suddenly 10'000 likes, and it was nice to see it was appreciated by the fans that much.
Even when we had our first show – a small show in the Netherlands – it was sold out! All the fans could sing the lyrics even better than I could!
It seems like a lot of effort went into making the second record, it has all come out so well. So how did you end up joining Gloryhammer?
It was actually an audition I did for Dragonforce – the video is still on YouTube. I auditioned around 2009…maybe 2010 I think…but besides Dragonforce there were other bands looking for singers. One of them was Gloryhammer. Then Chris wrote me and asked me if I wanted to join a side project – at first I said no because I had another band at this time. He asked again half a year later, he said 'we already have all the songs written you just have to join the band'…well sing basically. It sounded quite good…and I'm happy I said yes in the end!
Listen to the complete interview below!