An Interview With: Bjorn 'Speed' Strid & David Andersson (Soilwork)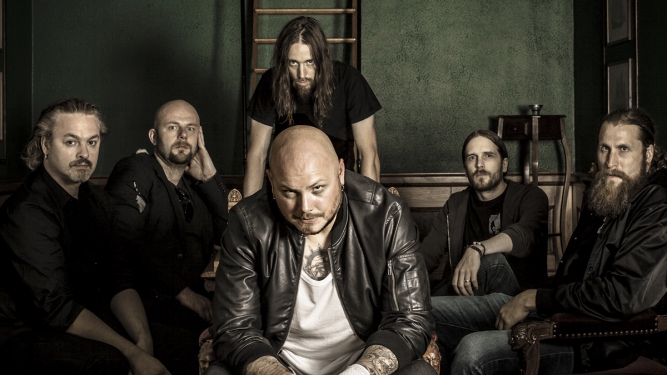 We caught up with Soilwork at the end of summer just to see how everything was going!
Soilwork have been a force in Swedish metal for well over 20 years now. Has it taken a toll on the band? Not one bit apparently. The band are riding as strong as ever, even after one year on the road supporting their most recent studio album 'The Ride Majestic'.
We sat down with vocalist Speed and guitarist Dave for a quick chat to get some insight into what it's like having to tour constantly in one of the world's most acclaimed melodic death metal bands, the recent loss of a long time member, and when we might see some more that Soilwork music we've all come to love…
Read the interview below:
Guys, thank you very much for speaking to The Metalist today. First question, how's the summer going?
Bjorn: It's been really good. It's been pretty hectic. We had a bunch of festivals in June, and we had a little bit of a break in July…then we did a bunch of festivals…I believe this is the last show for the summer in Europe, then we are heading to South America.
Cool! Brazil and places like that?
B: Yea 3 shows in Brazil, Argentina…Chile, Uruguay, Colombia…
Wow that's pretty extensive! You're hitting the whole continent!
B: Yea sure is!
I've never been myself but I hear the fans are pretty crazy out there…
B: Yea absolutely.
Well I guess the first thing we really want to ask is the most recent news to come out of the Soilwork camp – you lost a member recently. Dirk, who's been with you guys for a long time, went to Megadeth. Was that a surprise for you guys?
B: Not really. It wasn't much of a surprise. Especially after we saw Dirk playing with Megadeth at Sweden Rock Festival. It sounded fantastic, so I kind of expected MegaDave to ask the big question!
So he did. It's obviously a great opportunity for Dirk, and of course we are sad to see him go but luckily we have had Bastian [Thusgaard] this summer and he's been doing fantastic. It's been a pretty smooth transition even though Dirk was with us 12 years. We kind of expected it to happen you know?
So you've got South America next on the Soilwork agenda, then what's next? Perhaps a new album?
B: Well we're going to do a headline tour in North America in the fall. Then we have a little break, then we are going to do a European tour with Kreator and I think that's about it.
Has there been any writing for a new record yet?
B: Well not yet, but I think we are slowly entering songwriting mode this fall…who knows!
I see you guys are getting on the regular cycle where you are doing an album every two years.
B: Yea, I don't think you'll see a new album out before the end of 2017.
Yea sure, I think 'The Ride Majestic' is actually a year old now? How has the whole tour been so far? Lots of positive response?
B: Yea definitely has. The songs taken from 'The Ride Majestic' are really working out well live. Everyone seems to enjoy them. And we've really been everywhere with this one. We went to New Zealand for the first time…we've been to Australia, Japan, Korea…North America…now we are going to do North America again.
Wow. Have you guys actually managed to take a break at all?
B: Yea here and there…it's been pretty hectic?
Are you guys starting to feel a little tired now?
B: I'm doing alright. I'm getting sleep at least! We did some shows with Arch Enemy here in the UK and we stayed at hotels without long drives…I think sleep is definitely the toughest part [of touring].
Well Soilwork have been around a while now. Have you gotten used to that erratic sleeping schedule as you guys have gotten older?
B: Not really, it's gotten worse! At least for me. But then again you sort of learn to live with it, but it can be really hard to handle. When I was 25 I could handle it, now it's a different story!
So any highlights of the tour since you've been on the road for about a year now?
B: New Zealand was definitely quite an experience!
So it was your first time there…you got to see all the Lord of the Rings places?
B: No we didn't go there. They said it was a tourist trap! [laughs] I went to some different beaches with no people…where they filmed The Piano.
Oh that's cool…I guess some inspiration for songwriting?
B: Sure why not!
So the diversity of Soilwork's music has always interested me. I've seen you guys on billings of different genres…I've seen you on a death metal billing, progressive metal billing…do you guys write just to be diverse and different, or does it sort of happen that way?
David: I guess we have very diverse influences in the band. None of us are really interested in being just a metal band. There are so many metal bands out there, so we want to be in a position where we can do something interesting in the genre.
What kind of influences did you have at the start of the band?
B: Well when we started out we definitely had ambitions of not being just another Swedish melodic death metal band even though the first two albums had that sort of influence. We listened to Carcass' 'Heartwork' back then, also an album that was really big for us was 'City' by Strapping Young Lad. We had never heard anything like it before, and that inspired us very much in the way of singing and guitar playing…open chords and atmosphere…so we had ambtions from the start of making something unique.
It's interesting. So many bands of different genres always tap into Soilwork as an influence. Did you ever expect that?
B: I don't know what I was thinking! In the beginning I just got a great kick out of being in a band with people I like! Together we created something really cool…and then we got signed, that was the next kick, and then our first tour. I never really had any plans…
Now when you write new music, do you have any plans or do you still let things just take shape?
D: I mean we discuss it, but it's also a pretty natural flow I would say.
Well that's it for my questions. Thank you guys so much, really appreciate it!