Allegaeon Announce Crowdfunding Campaign For Band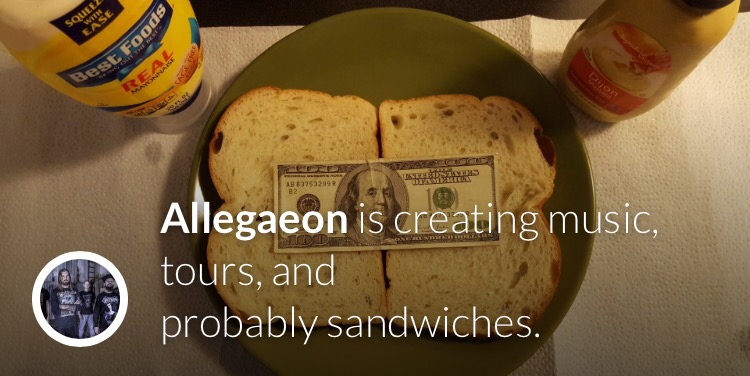 Recently Bassist Corey had decided to leave the band in order to pursue another future in Law. Reevaluating their current status has led Allegaeon to effectively seek out the help from their fans, setting up a Patreon campaign to keep the band going.
No doubt only one of the reasons for the band heading the way of Patreon, the reality of being a touring band has been hitting the news more and more recently. With the pioneers of the idea Ne Obliviscaris spearheading the movement, Allegaeon have opted to try and do the same.
Staking their claim as to why fans should support the band the group released a small statement and video. Offering some pretty interesting perks the $250 top contribution per month features the following :
A customized 'Thank You' email
An IOU for a group hug
Membership to an exclusive online Allegaeon fanclub
Early access to songs & videos
An invite to a monthly Google Hangout AMA
A care package full of Allegaeon merchandise
Access to a video lesson filmed by a different member of the band each month
A once monthly live music lesson from Greg
Access to an exclusive weekly Twitch stream with Riley
Early shipping and digital access to the re-release of the Allegaeon EP
Automatic guest list entry to any and every show we play in your area
Set list input for every show we play in your area
A customized ALL ACCESS VIP laminate
VIP backstage and soundcheck privileges for every show we play in your area
Monthly video/phone chats with Brandon and/or Michael
Dinner on us every time we are in your area
A featured highlight in the Thank You section of our next album
Any piece of Allegaeon merch once every three months.
The band will also be re-recording their debut EP and releasing this as well once they have the support backing them.
After this the band were then slammed against their Patreon campaign by Mish Barber-Way from White Lung regarding their requirements. You can read the full thing here.