Album Review : Death Angel – The Evil Divide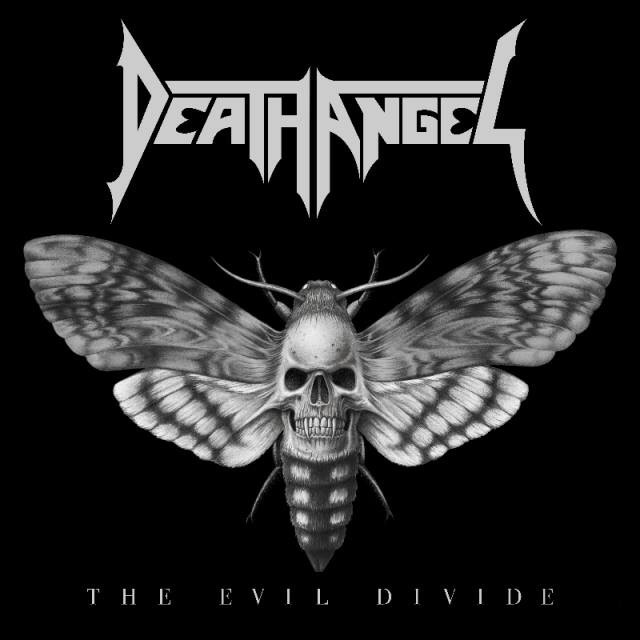 Music itself could be considered cyclical, an ever changing entity feeds off history, culture and aggression. Asserting it dominance in the late eighties Thrash Metal was a force to be reckoned with. Returning from the graves of the Ultra Violence Death Angel forcefully kicked down the door once again asserting their dominance within the scene. With a three year gap between previous effort The Dream Call For Blood the band bare their teeth once again with The Evil Divide.
Tracklist:
The Moth
Cause For Alarm
Lost
Father of Lies
Hell to Pay
It Can't Be This
Hatred United, United Hate
Breakaway
The Electric Cell
Let The Pieces Fall

Length: 45:00
Label: Nuclear Blast Records
Release date: May 27th 2016

Restablishing themselves as major players in the Thrash genre after their absence, Death Angel brought life back into what could have been an antiquated formula. As the familiar sound of "The Moth" breathes through the speakers, chock full of classic the band's signature calling cards once more the bullheaded underdogs return with a cry of "surprise I'm back again!" a perfect vignette of the tenacious Death Angel work ethic. "Cause For Alarm" brings the band's more punk influenced traits to the fore with a thick and fast riff deftly bringing the album into classic Thrash territory. "Father of Lies" features a beautifully crafted solo from Rob Cavestany who positively nails it.
Delivering an absolutely astonishing performance set piece "Lost" sees Osegueda take the reins coupling the singers range with absolute honest emotion working in tandem with melodic mid tempo guitar passages. If ever there was a Bay Area rendition of November Rain this would be it. Needed in this time it was a gamble that paid off giving way to a new sound in the band's catalogue, hardly something many are known for in the regimented movement. Bringing back the shred "Hell To Pay" features an ironclad rhythm section and it is here that Death Angel succeed. Combining both a sense of open minded adventure and identity makes The Evil Divide leagues above their peers
Somewhat of a guessing game the record is simultaneously linear yet unpredictable. Final act "Let The Pieces Fall" both relies on the listeners ear whilst derailing slightly to retain intrigue. "Hatred United, United Hate" all the same features some of the band's best song writing to date. An elasticated riff brought forward with the inertia of drum powerhouse Will Carroll giving way to another meticulously pieced together chorus before an almost minute long instrumental section, again featuring an inventive solo all brought together with a vitriolic final burst from Osegueda. Built upon speed much of song writing in Thrash can get quickly oversaturated owing to boisterous solos, unnecessary repition and non descript riffs are all ingredients to becoming another faceless, featureless entity. With The Evil Divide, Death Angel have brought back their unique unequivocal prowess coupled with their curiosity and all out aggression that will see them lead this cycle of the the Thrash movement.
Ever the underdog, Death Angel have released one of their finest records to date. Refined yet curious the band understand exactly their formula making them masters of their craft and The Evil Divide essential for any Thrash fan.
If you like what you read / heard then you can pick up a copy of the album here!