Wacken Open Air 2014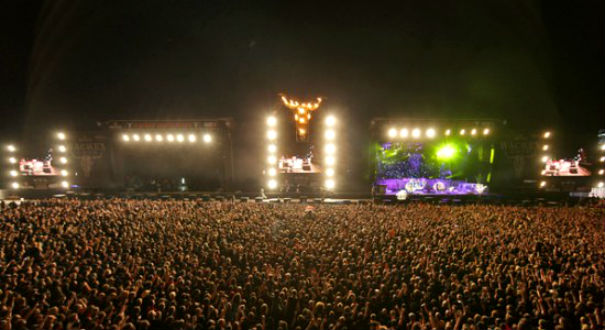 The time of year where the metal pilgrammage takes place, it is time for Wacken Open Air – without a doubt the biggest metal festival in the world. Over 160 bands across 8 stages, and 75'000 metalheads there to enjoy the best that the metal world has to offer. This year was the 25th anniversary of the festival, and the promoters celebrating by bringing in some of metals most legendary acts including Slayer, Megadeth and Motorhead, as well as a plethora of acts that span across all metal genres. There is something for everyone at Wacken, and although it has become incredibly popular over the last decade, it is the biggest and best metal party in the world. No doubt about that. The Metalist spent 4 days at the festival, being the 8th time in attendance for one of our writers. See what we had to say about the music we saw this year:
WEDNESDAY
RABBIT AT WAR
We kick of the anniversary of the world's biggest metal festival with the standard Wednesday band at Wacken, something small but always entertaining in one respect or another. The only area of the festival that was open was the Wackinger village, a medieval style village crafted with forges, food, armour stalls and everything medieval you could possibly think of. Two stages also graced the village, the Wackinger stage for the Mittelalter metal bands (Medieval metal that is hellishly popular in this part of the world) and a Wasteland stage build from all sorts of random pieces of debris to house two rotating Mad Max themed bands. Rabbit At War was the first of the two – donning perfectly drawn corpse paint and playing a Neue Deutche Harte style of metal that Rammstein and Eisbrecher would be proud of. The music and performance was entertaining enough, the whole theme of the stage provided the most entertainment as the band blasted through techno metal tracks of what appeared to be about giant rabbit robots fighting each other. Certainly a fitting start for a festival!
MEGABOSCH
The second band of those rotating shows throughout the festival was a band that had taken over last year's Wasteland stage, Megabosch. They have gained a significant following since they debuted last year, and actually brought in a sizable crowd for the 'headline' show for the night. Admittedly I became a bit of a fan last year, as I am a bit of a sucker for awesome themed stage shows. Megabosch model themselves off of being massive rock stars in an apocalyptic wasteland labelling themselves 'Der Rockstars der Apokalypse', and dress accordingly with instruments shaped like weapons and wasteland soldiers accompanying them on stage. What started as a gimmick now seems to be taken more seriously, with the stage show and music improving tenfold over last year – the wasteland soldiers were in the crowd pumping everyone up, there was a fireshow spearing the night in the background, the music was tight and they even brought on strippers if you weren't already won over. It was a very German performance, tight to every last detail – and I wouldn't be surprised now if they made it bigger. Suprising, but one of the most entertaining shows of the festival!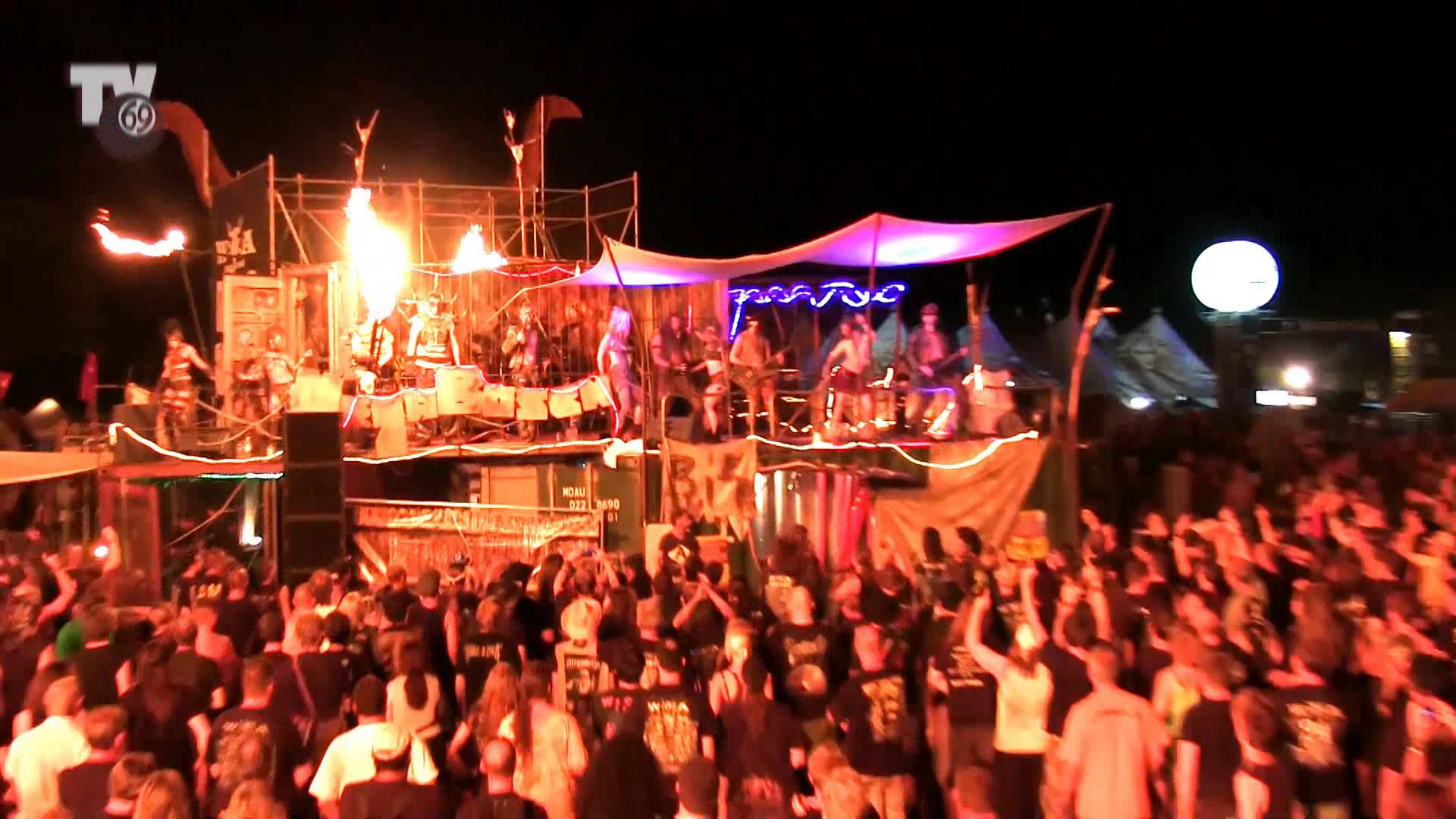 THURSDAY
SKYLINE
Skyline are the only band on the billing to have played the first Wacken Open Air 25 years ago, so it is only fitting that they have a spot to play on the 25th anniversary. Then again, Skyline is the band of festival organiser Thomas Jensen. Veterans of Wacken will know that Skyline have pretty much played every year to officially open the festival, and it's never anything special, but it's tradition! Again it really wasn't anything that special, the festival organisers in a band playing classic heavy metal covers, with the standard guest appearance by Doro Pesch to play the Wacken theme as voted by festival goers. Tradition reigns at Wacken and we very much respect them for it.
FIDDLER'S GREEN
Moving on to the smaller Wackinger stage, Fiddler's Green were about to come on. I was intrigued by this band years ago as being the only German's I had ever heard of to fake an Irish accent and sing Irish-style drinking songs. It was definitely worth seeing if the band could pull off the Irish pub spirit live, and in front of a packed out stage, turns out they could. There was no traditional gear on, in fact they came out looking like hipsters but played their instruments flawlessly and worked the crowd up into a frenzy. Playing speedy tunes like 'A Night in Dublin', 'Bugger Off' and 'Folk's Not Dead' the crowd went wild, it was a real party and extremely entertaining to see Germany's take on an Irish pub show.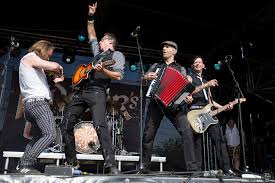 HAMMERFALL
Another band very fitting of the opening day on the 25th anniversary of Wacken are power metal titans Hammerfall. The band is a veteran of the festival, first playing in 1997 and playing every couple of years since. Hammerfall in recent years have used the massive stage at Wacken to their advantage to fill it with props and pyro to form a truly epic stage show, this year however didn't seem to be the case. The stage was stacked with Marshall amps, maybe to signify that this year the show was about the music – and I think it was. Hammerfall picked out a setlist of the classics with all the energy purely coming from the music. The band kicked it off with the Warlord cover of 'Children of the Damned' and progressed in with 'The Metal Age' and 'Steel Meets Steel', and then the surprises came. Hammerfall decided that this was an apt time to have a bit of a reunion with some old members of the band, first bringing on ex-guitarist Stefan Elmgren to play 'Stone Cold', then bringing on ex-drummer Patrik Rafling to play, 'Unchained'. Possibly the biggest surprise of the show was that the band brought on In Flames guitarist Jesper Stromblad, who played drums for Hammerfall in their early years and was one of their key songwriters. As much as we would have loved to see Jesper played the drums, he only played guitar for 'The Dragon Lies Bleeding'. After a happy reunion with ex-members, the band played their more recent hits of 'Any Means Necessary' and 'Blood Bound' wrapping up with 'Hearts on Fire'. A fun show that did miss out on their typically awesome stage set-up, but it was about the music this time and it certainly succeeded.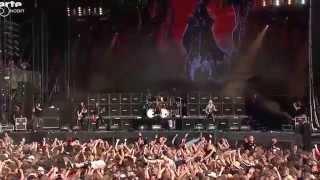 STEEL PANTHER
After Hammerfall I had started heading towards the bar to grab a beer, I had no interest in Steel Panther as I never had really enjoyed their music, but apparently I had not heard the right music from the band. The reason I decided to watch them was because I had trouble getting out of the stage area as a lot of people had flowed in to watch this band, and it turned out to be one of the best things to happen to me all festival. Steel Panther were absolutely fantastic. While having the most minimalistic of stage sets, they entertained the crowd like no other. The band perfectly replicates the idea that they are on top of their glam-game in the mid-1980's in the most comedic of fashions, making outburst to the audience about women they have slept with, how much coke they had done before the show and how many venereal diseases they are likely to have, with each member applying their lip gloss or doing their hair in between the ridiculous songs. The music was not bad at all, the band could play their instruments well on-stage to back up what is very silly, but catchy tunes – my favourite including 'The Girl From Oklahoma' with the hook including 'Come on pretty baby lick my balls all night'. While I can't say I knew what the band were playing, I was certainly won over. They were the only band that managed to get thousands of female spectators to get their tops off, and managed to bring about a dozen women on the giant main stage to do the same. Cowboy hats off to Steel Panther.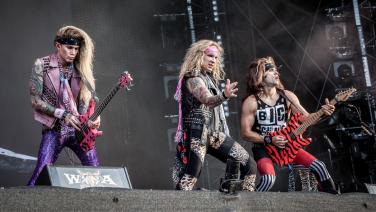 NACHTGESCHREI
Back to the Wackinger village for some well-deserved mead and meat on a stick, the band Nachtgeschrei were about to hit the stage, another Mittelalter band that I considered would provide a perfect backdrop while one drinks mead and tears away at a huge slab of meat. Nachtgeschrei actually surprised me a little, when I heard the sound check of violins, pipes and hurdy-gurdy's I thought it would be party music for sure, but when the band started up on stage it was actually pretty refined and well-constructed songwriting that seemed a bit deeper than your typical Mittelalter music. Being impressed with the musicianship I stayed the whole way through, and was a good performance from the seven putting a bit more of an interesting flair on the music instead of just wailing on the pipes. A recommendation for any folk metal fan!
SAXON
Back to the main stage, Saxon, another Wacken veteran stormed out with prowess celebrating 35 years of metal mayhem. One would think that after that 35 years the band would have lost some of their lustre, but not Saxon – they have only gotten bigger and better. Unfortunately due to the aforementioned Nachtgeschrei, I missed the opening couple songs, but it seems as though I started watching the band at the right moment. As darkness had fallen, the lights of the main stage could be used to full effect which was certainly done so for Saxon. The light flair in all colours was fired in perfect sync for the power of the heavy metal masters, first to the sound of 'Heavy Metal Thunder' and then 'Wheels of Steel'. The special appearance for Saxon is this particular show was the use of an orchestra for a few songs, something that I personally have never heard or seen Saxon use before. It actually sounded fantastic, with the orchestra masterfully playing along to 'Crusader', 'Power of the Night' and 'Princess of the Dawn' the band epitomised in why they have been so influential on so many European metal acts for the better part of the last 3 decades. Saxon really showed the veterans they are with this one in front of a 70'000 strong metal-loving crowd. Simply excellent.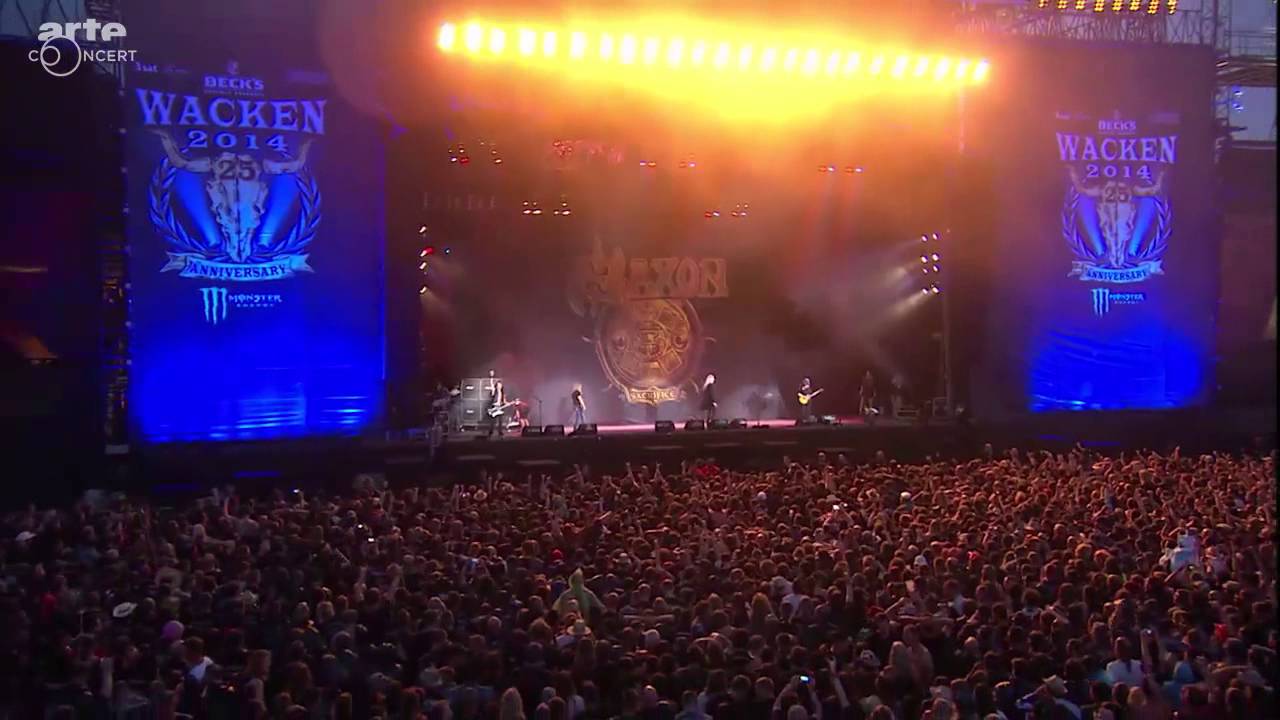 ACCEPT
And to wrap up this night of heavy metal veterans, who better than Germany's very own Accept. The only other time I've seen the band was at Wacken in 2005 when they reunited with iconic vocalist Udo Dirkschneider for a one-off show that turned out to be legendary, it is was hard to see how this show would size up to the one nine years ago. While Accept have not slowed down at all, it just couldn't match the 2005 show, mainly because new vocalist Mark Tornillo has nowhere near the personality of Udo Dirkschneider who fit into the Accept music so well. The band kicked off with their newer stuff which does sound very good, first with their brand new song 'Stampede' which has the formula of an Accept classic, and leading into modern favourites such as 'Stalingrad' and 'Losers and Winners'. Again the lightshow was incredible blaring in sync to every note and the colours matching the tones of each of their classic-packed setlist, and for a band that started in 1968 they had the same energy they had when were at their peak in the 1980's – brilliant to watch and see that heavy metal reigns supreme despite your age. Accept kept the ball rolling with fast and energetic songs, albeit very little crowd interaction though most likely due to Mark Tornillo not really speaking German. For a classic German band that just wouldn't have seemed right which was probably why the show felt a bit odd in comparison to 2005. Towards the end when the band started to play their smash hits, you just couldn't help but think of Udo as Tornillio did a decent job in covering songs like 'Balls to the Wall', 'Teutonic Terror' and 'Metal Heart'. Probably I shouldn't be making comparison's as it was a good show and it was likely the first Accept show for a lot of the festival goers, but I can't help but miss Mr. Dirkschneider.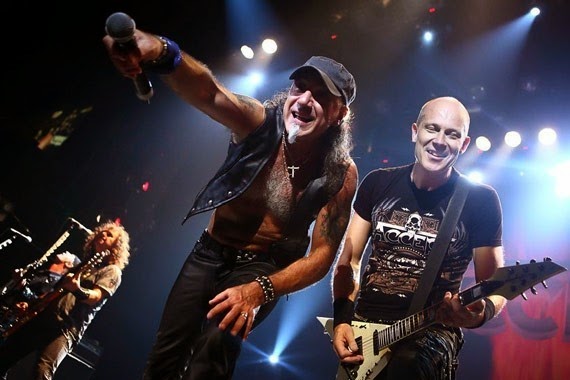 FRIDAY
CHTHONIC
Taiwan's premier metal export was the first to take the stage on the second day of Wacken. They are already worth seeing as they are one of the few Asian metal bands to obtain a significant international following, but for the 25th anniversary they had something even more special in store for the Wacken loyal. The black metallers brought over an oriental orchestra to accompany them and it might be a bit hard to comprehend how that would sound on record, let alone live, but it ultimately it sounded brilliant. Watching the orchestra shred into their oriental instruments almost overshadowed the performance of the actual band, but not quite as they were pretty awesome too. Being the first band on at 11:00am is never the greatest of time slots as most are only just waking up or nursing hangovers, but the energy the band brought really reflected on the audience and all were totally into the oriental branded black metal that ripped through the festival PA. The band kept every song as interesting as the next playing renditions of 'Southern Cross' and 'Sail Into The Sunset's Fire' which anyone could tell had been rehearsed very well with the band and orchestra flawlessly executing every note. A great performance and always fun to see something a bit different.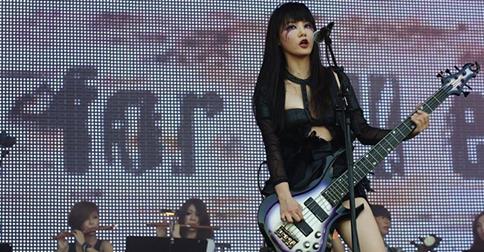 SKID ROW
Having seen Skid Row earlier this year for the first time and being generally impressed, I decided to check them out again on the world's biggest metal stage. Unfortunately this time the band seemed a little run down as they struck the stage and opened with 'Let's Go'. The sound was fine, but the Skid Row energy just didn't seem to be there and churned through their songs with no real memorable moments. Understand their recent tour schedule the band could be forgiven as it seems they have been touring relentlessly all-year, also coming off a flight from California doesn't help either. It was more 'we played and left' scenario but managed to get the crowd a little excited when playing classics such as '18 and Life' and 'Slave to the Grind'. A little disappointing, but as the music was perfect there isn't a whole lot to complain about as the veteran rockers seem to pull it off night after night.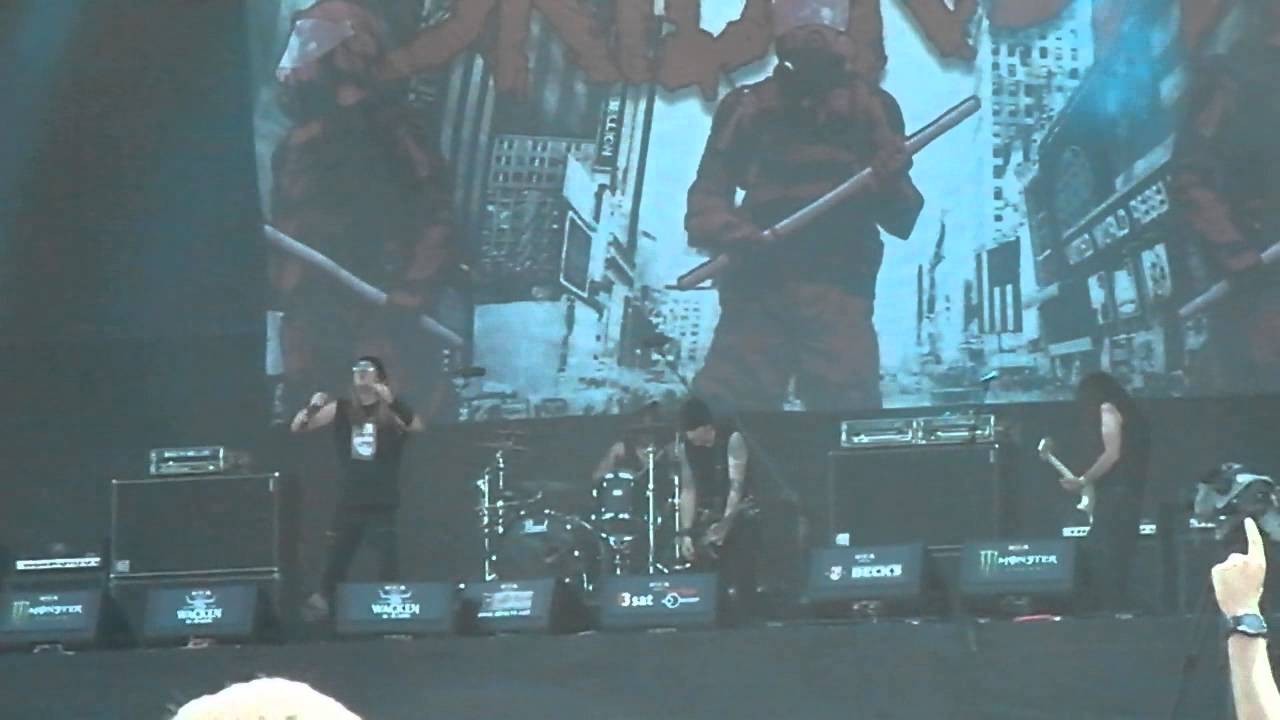 FIVE FINGER DEATH PUNCH
The band that is on everyone's lips for one reason or another was up on the main stage next. Five Finger Death Punch are one of those bands's you love or hate, and taking a neutral standpoint to watch a band like this is always a tough thing. I myself have am not a particularly huge fan of the band, but I always believe that if a band can pull off a good live show whether their music is good or not they are worthy of total respect. From the moment the opener of 'Under and Over It' kicked off, it was a foreshadowing of everything to come in the show – terribleness. The sound was not good, for a band that is so riff heavy one would expect the distortion sound to really rip up the massive PA they had on offer, but the guitars sounded like both were being fed through a tiny practice amp, which not only ruined the rhythm sound but did the leads no justice either. The clean vocals were off key, and the pure arrogance of vocalist Ivan Moody on stage just ruined the performance, even if it was just an act. Nothing about it really redeemed the show, especially with every other act at Wacken putting heart and soul into it and not acting like they were the greatest thing there.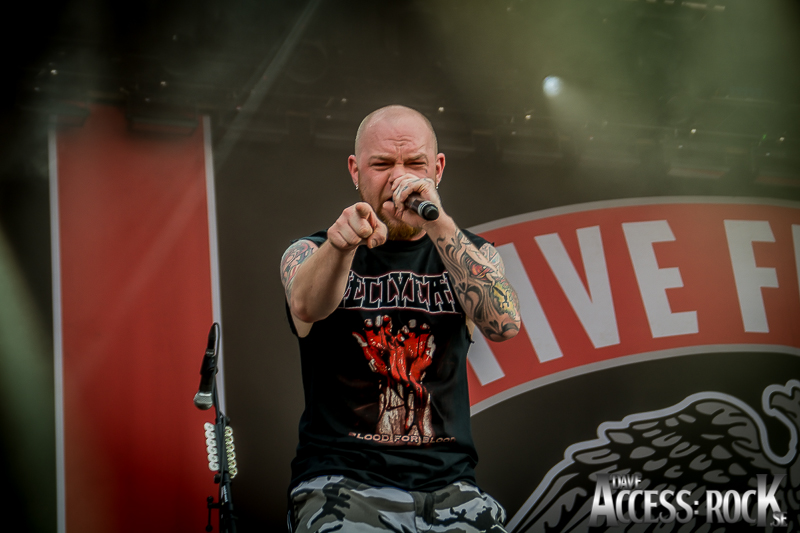 SAOR PATROL
Another one of those intermission performances in the village that accompanied beer and food that turned out to another good bit of fun. While not really metal per se, this Scottish quintet played covers of pop classics with pipes and Celtic drums. Their appearance was so brutally Scottish it was hard not to like them, donning kilts and epic beards and announcing the next song in the thickest of Scottish accents. They kicked off a party as they were there to do, they were one of those bands that you would hire for a pub show on a weekend but it was definitely another act that impressed.
CHILDREN OF BODOM
The titans of modern metal were back at Wacken again. Children of Bodom have become an expectation every 2 years at Wacken, and it was time for them to grace the stage again. They broke the world crowd surfing record back in 2006 with over 5'000 crowd-surfers in a 90 minute show (a feat since I believe has been broken) and have been consistent with delivering their best performances possible at Wacken. This year was no different having seen COB many times in different capacities – every Wacken they seem to put in 110% which cannot be said for every COB show out there. The band had a shorter set time this year of 70 minutes but did not stop them from cramming all the classics into the refined set. After emerging on stage they kicked off with the power classic 'Needled 24/7', and shortly after announced their absolute pleasure to return to have returned to Wacken. Everything musically was pitch perfect with every note of the sharp leads of Alexi Laiho and keyboardist Janne Wirman being distinguishable and an absolute awesome sight to see them shred together in sync. While it is all too easy to play a bunch of songs from the current album you are supporting, COB decided to play all the good stuff and only a couple songs from their new album. Particular highlight songs that really got the crowd off were 'Kissing the Shadows', 'Hate Crew Deathroll' and 'Hate Me!' all played without a note missed while the band were running around on stage feeding nothing but pure energy into the audience. If only every Bodom show could be like Wacken, but it is nice to know they consider this festival special enough to give it their all.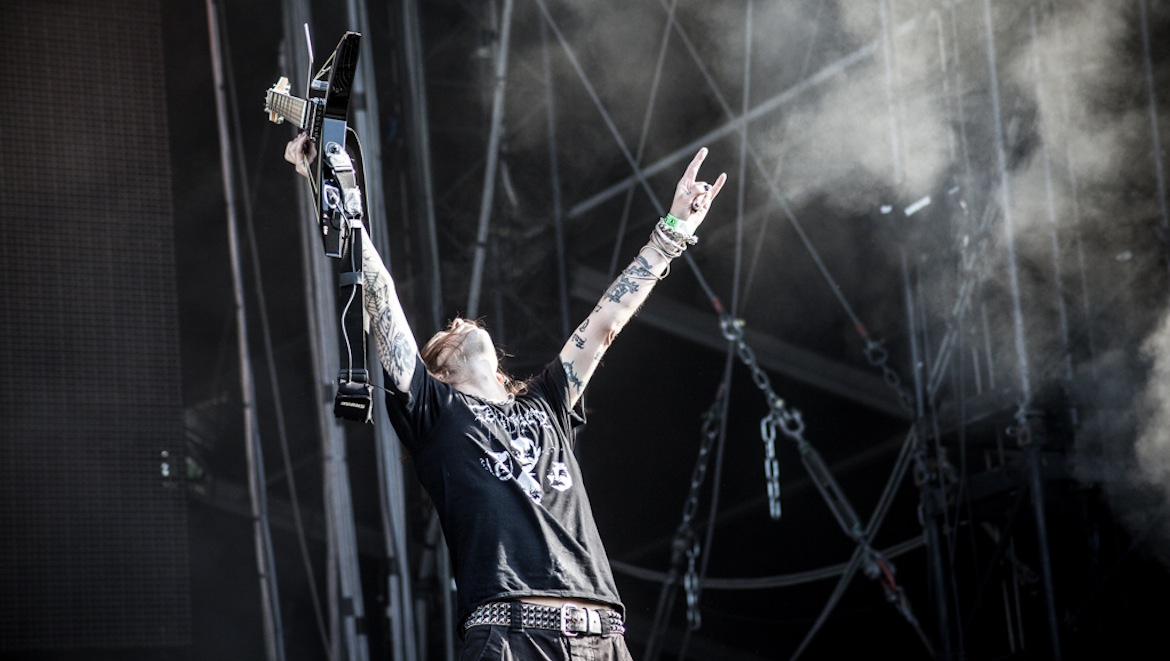 APOCALYPTICA
Apocalyptica have managed to break out of that novelty act brand by actually producing some brilliant music over the past few years and bringing a live show that not only rocks, but feels grand to witness something as unique as cello metal. On this year's festival circuit Apocalyptica wanted to bring a new angle to something that was already unique, and add an orchestra to the performance. Being frank without going into detail first, it was a swing and a miss. It was one of those cases where the band itself is just a pleasure to watch anyway, and with a full orchestra backing their music there was too many cooks in the pot. As the band played their classic crowd pleasers with the orchestra such as 'Burn', 'Bittersweet' and 'Worlds Collide', it just didn't sound right with the orchestra. I feel that the engineer just couldn't figure what to do with the mix considering there were so many bass instruments on the stage, 3 of which are not naturally meant to be distorted anyway. It just seemed like there was an orchestra, then Apocalyptica and didn't operate as one unit. Taking nothing away from the band they did manage to get a crowd going with their energy passing on to the front half of the spectators, especially during their covers of 'Fight Fire With Fire' and the final 'Hall of the Mountain King', but judging by the crowd reaction at the end it looked as if they thought something was missing too.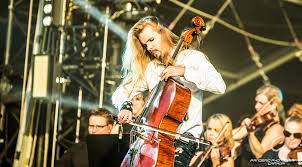 MOTORHEAD
Motorhead are yet another band who are no strangers to Wacken playing about every 2 years. They had played last year but unfortunately had to stop after 3 songs due to Lemmy feeling ill on stage. This year Lemmy was very keen indeed to make up for the Motorhead fans who had wanted to see the band last year, and having seen Motorhead a few times before this was definitely one of the better shows I had seen. That's not really much of a statement though trying to define a Motorhead show, you always know what you are going to get – some grungy rock'n'roll with raspy vocals – but it's always Lemmy's shear personality that gets the show going, and whether he is having a good time increases the amount you get out of him and his humourous comments between songs. At Wacken he was definitely having a good time. The setlist included the standards with nothing particularly new including 'Damage Case', 'Metropolis', 'Over the Top' and of course wrapping it up with 'Ace of Spades' and 'Overkill'. The only difference here was the appearance of Doro Pesch to share vocal duties on 'Killed By Death', but that seemed a little awkward, as if no one should be sharing the stage with Lemmy Kilmister. Perhaps they shouldn't after all, almost 70 years old and Lemmy still has more personality than most of the top metal bands out there.
SLAYER
Following up right after a legend was another legend, slightly younger than the last one, and slightly quicker. It is safe to say everyone knows Slayer, even if you have never heard their music before their name would have cropped up in a conversation or two, and the cult of Slayer arguably hits harder than the actual band itself. Their audience reception to Slayer is almost always wild, each audience trying to live up to the cult and be the craziest they can be, but this is a problem to Slayer itself – they don't feel the need to try anymore. Having seen Slayer at Hellfest earlier this year, it was the exact same performance they gave. Obviously being around for the better part of 30 years they have absolutely mastered there music and play every track flawlessly with perfect mix, but nothing else. There is no crowd interaction, no stage show and half the time the band is covered by fire, smoke or blaring red stage lights so we can't even see any wicked leads produced by Kerry King or Gary Holt. All that happened was Slayer came, played their classics, said very little and left. Some people may appreciate this as sort of fulfilling the cult of Slayer, but I do like to see a little more than that in a performance. That being said the crowd did seem to thoroughly enjoy the music given the size of the pits that erupted – maybe it was finally an excuse to throw themselves into carnage while yelling 'SLAYER!'.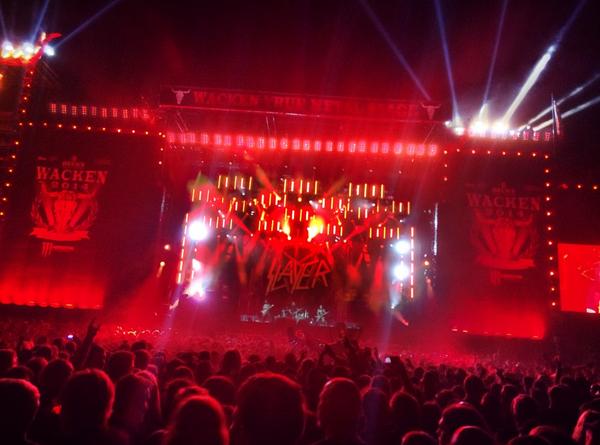 SATURDAY
ARCH ENEMY
The final day of this magnificent festival started with a bang as first up were melodic death metal masters Arch Enemy, with their newest addition vocalist Alissa Gluz-White. We have heard her on record and can safely say she pulls it off, but what about the live connection with the band? It was fine, totally fine, in fact awesome. Alissa had a fantastic energy and is noticeably excited to be in Arch Enemy, and the band were all in top form as well. A great setlist had been chosen, kicking off with 'Yesterday Is Dead and Gone' the crowd erupted with giant pits and the crowd-surfers began to flow, and this stayed consistent through the entire set. Probably the most crowd-surfers I saw in the festival this time around, I almost got whiplash panning between watching Michael Amott's astounding leads and turning my head to avoid an incoming boot. The band played newer tracks such as 'War Eternal' and 'You Will Know My Name', as well as classics from the 'Wages of Sin' era such as 'Ravenous'. It was a showcase to say that Alissa is in for the long haul and can cover everything Angela Gossow left for her, and finishing off with 'Nemesis' it was the cherry on the cake to a fantastic show.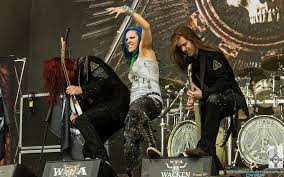 SODOM
To be perfectly honest I have never listened to a whole lot of Sodom before, mainly because I wasn't aware of their existence as a youth, but I have the upmost respect for the band has being a key player in the Teutonic thrash movement in the 80's and 90's, so I thought that it was definitely worth checking out. I ended up thoroughly enjoying the show as it was pure thrash masterclass – the sound was perfect, the band members despite their age were throwing in all their energy into the show and getting back an excellent audience reaction. The only song I identified from the setlist was Blasphemer (is this where ex-Mayhem's Rune Eriksen got his stage name from?) but epitomised the set – Fast, technical and very German.
IMPIUS MUNDI
Impius Mundi were yet another one of those intermission bands that I ended up liking quite a bit (all the best food and beer was in the Wackinger Village, the stage was an awesome bonus). Another Mittelalter band there was actually nothing particularly special about the music as it did fit the standard German medieval rock stereotypes, but this band really gave it their all with the performance including actually getting inside a pit dancing with their pipes and guitars. That was particularly cool and I really do appreciate that kind of crowd interaction, but as far as the music goes it was fun but nothing really memorable.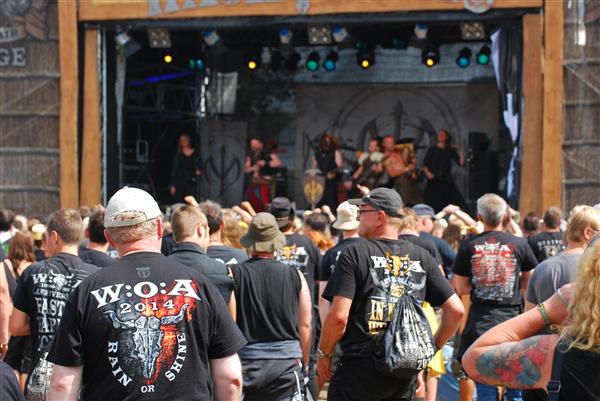 BEHEMOTH
Behemoth are a band that need to introduction. Arguably they have one of the biggest stage presence's in metal, and being on the world's biggest metal stage was no different. Donning the stage in a striking white and decorating it with symbols, the band emerge in dramatic fashion to the ringing of 'Blow Your Trumpets, Gabriel', and it all kicks off from there. Fire blazing, a commanding presence of frontman Nergal and all members displaying instrumental masterclass – as I've said before Behemoth are one of those bands that just seem to dominate wherever they are, and have always been consistent in their performance. Unfortunately I only got to see half the set as they clashed with fellow Poles Decapitated, which I opted to watch having never seen them before and already seeing Behemoth twice this year. Still I got to see them rip some fan favourites such as 'Slaves Shall Serve' and 'Christians To The Lions', it was all just awesome.
DECAPITATED
I was very excited to see Decapitated. I have been a fan for many years, and the last time I tried to see the band their legendary drummer Vitek sadly passed away a couple weeks before I was due to see them. This one was a bit special on a personal level, and even though the stage was small and packed, the excitement certainly lived up to its expectation. The band kicked off with 'Lying and Weak', and with a sizable excited Polish population in the crowd the pits immediately opened up and the party commenced. I was a bit surprised by the pits as Decapitated's music is so technical it seems a bit hard to mosh too, but somehow the crowd made it work and it was fantastic! The short set packed out set included a lot of more recent material including '404', 'A View From A Hole', 'Post-Organic' and the surprise lengthy track 'Carnival is Forever'. It was really great to see Decapitated rip up the stage, the energy was great and the music was spot on. The show wrapped up with 'Spheres of Madness', an absolute classic, but as the band began to leave the stage they realised they had finished early and returned to play an unscheduled 'Homo-Sum'.
DEVIN TOWNSEND PROJECT
As Devin Townsend overlapped with Decapitated this was another set I could only catch half of, being the latter half of his set this time. I arrived at the right time though, just as Mr. Townsend and the Wacken audience were setting the world record for the largest group hug on Earth, a 70'000 person hug. This is why everyone loves to watch Devin Townsend, he is like the Jim Carrey of metal – an absolute silly person but ridiculously talented at his chosen art. Another set where the music was pitch perfect to soak up and enjoy every note of the proggy genius of the band, who played a series of tracks from different projects – Devin Townsend, The Devin Townsend Band, and the Devin Townsend Project. Yes it was a bit confusing, but everything sounded great and got us all psyched up for Ziltoid 2, the only disappointing thing for me was that nothing was played from the Strapping Young Lad project that I loved so many years ago, but really can't complain!
EMPEROR
I was debating to myself whether to watch Emperor again considering I had already seen them earlier in the summer at Hellfest and wasn't particularly thrilled with the show, but then I thought since I saw the Wacken performance that but the band to bed, it's probably ideal to see the Wacken reunion performance. There is no doubt that Emperor are a fantastic band, what I can't get over though is what happened to the band? They've come back to life only to be dipped in hipster sauce and give a whole new visual outlook to themselves. Gone are the long black trench coats and slick hair that the band became synonymous with, in with the thick black glasses, white telecasters and MacBook's, it's just not black metal! It just takes away from the band too much as Emperor rely on visuals to really bring their atmospheric black metal to life on stage, and even here at Wacken it just looked like Franz Ferdinand covering Emperor. I do realise I am being a snob about this, as the music was actually excellent and rung through the Wacken PA perfectly; a mix that's hard to achieve on such a huge stage, and the light show was awesome. But damn, I want to see Emperor look like the kings of black metal that they are.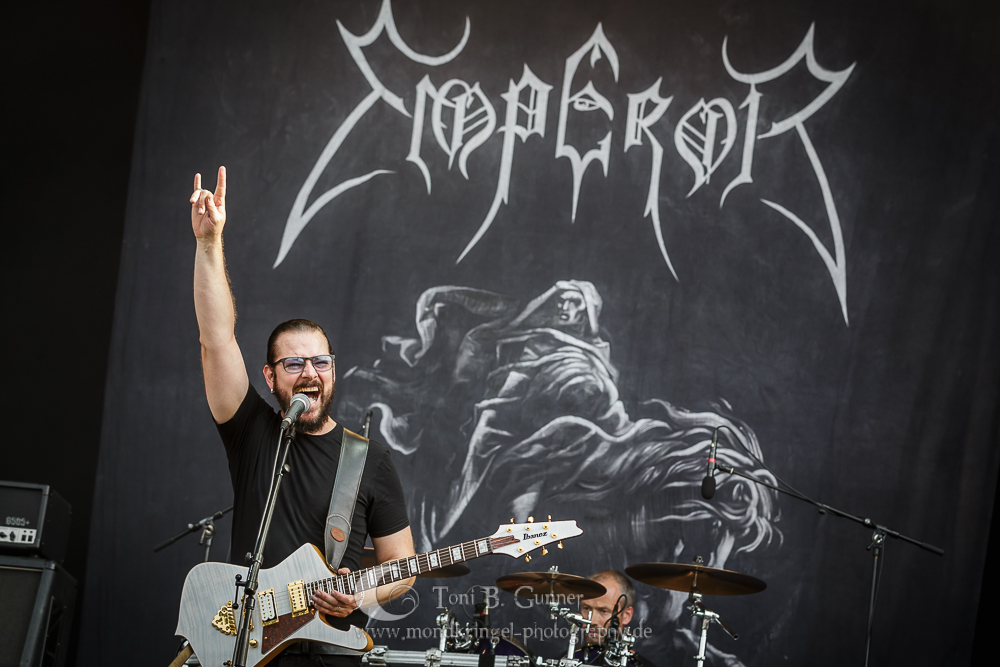 AMON AMARTH
Amon Amarth are another band that love Wacken making an appearance about every 2 years. Wacken apparently loves them too as every time they play at this festival their stage set seems to get bigger and bigger, and yes, this year it was the biggest yet. Setting up two giant dragonheads and a pillar for frontman Johann Hegg to scowl over the 70'000 people in attendance simply looked majestic, pair with the pyro and smoke that flooded the stage for each major strike of a note this was one of the best looking stage shows of the festival. Sadly for Amon Amarth though, there was one fatal flaw…the mix was totally inaudible. I am not sure if this was a fault of the band or the engineer (likely the latter) but the music from the band was very quiet by festival standard. If you can have a conversation with the person next to you without yelling and you are not that far away from the stage you know there is a problem, however this did not dampen the spirit of large crowd that turned up to see them. The pits and the wall of death were running, the synchronised windmilling was in full swing with rows of 40-50 people taking part, it was actually all quite a sight. Amon Amarth won this round by visuals, probably the first time they have done so. The band ripped through classic tracks such as 'Guardians of Asgaard', 'Cry of the Blackbirds' and 'War of the Gods' and what we could hear they made a mighty fine job of it, and getting 70'000 people to sing along to the hook of 'The Pursuit of Vikings' was just a sound to remember.
MEGADETH
I've never been the biggest fan of Megadeth, mainly in part to frontman Dave Mustaine really getting on my nerves, but I do respect them and they have produced some truly excellent music in their early years. I generally hear that Megadeth are not that great live, but I have seen them before and they were very good last time I saw them, and at Wacken, they were even better. Dave Mustaine does seem to know how to perform, and with guitar virtuoso Chris Broderick backing him up the whole show was a sight to be seen. The stage show was awesome and really encapsulated the where the music was coming from with corresponding video screens and a light show that matched each album covers. The band stormed on stage to the sound of 'Hangar 18', and wasted no time going into 'Wake Up Dead' and 'In My Darkest Hour'. Megadeth are veterans of the industry and one of the Big 4, so it's no surprise that they went through their material flawlessly, I think more of the surprise was they actually chose a fantastic old school setlist and decided against playing the more recent rubbish that they seem to favour while on tour these days making it a real Megadeth show to remember. Particular favourites were their renditions of 'Tornado of Souls' and of course the sing-along 'Symphony of Destruction'. Any Megadeth doubters were won over, and as 'Peace Sells' and 'Holy Wars' rung out, Wackener's seemed more than satisfied that Megadeth was chosen as the 25th anniversary headliner.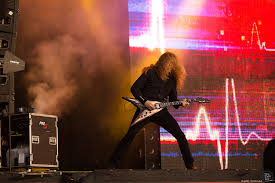 AVANTASIA
It was at Wacken 3 years ago that Avantasia called it quits on stage and announced that it would be the last show ever, and here they were in a headlining spot with a new album under their belt. I guess what is said and done at Wacken stays at Wacken. Regardless Avantasia were back in full form, donning a massive light show, a series of musical guests, and the ambition to steal the show. Avantasia were the only band to be awarded a 2-hour set time at Wacken meaning the festival had given them enough faith to be a true headline act, a little bit hard to believe considering the plethora of legendary bands that it had to follow, but as soon as 'Spectres' kicked in that faith had been instantly rewarded. From the very first song all the key elements were there to set the foundations for a fantastic show, an excellent line-up of musicians, great sound, colourful and well-organised light show and a frontman that had the audience at his command. Avantasia is one of those bands, like Edguy, that is really over-the-top metal – no matter how cheesy it gets you just can't help but love it. Power metal sing-along classics rang through the PA with most members of the audience surprisingly singing every note and waving their arms and banging their heads, along with the special guests that appeared in almost every song. Michael Kiske, Bob Cately and Ronnie Atkins all joined Tobias Sammet for epic renditions for every song, with the big surprise (at least for me) being legendary soul singer Eric Martin joining on stage for a few songs, who is an absolutely fantastic vocalist, and adding his vocals on top of songs like 'What's Left of Me' and 'Twisted Mind', just magic. If you are an Avantasia fan the setlist was excellent, choosing epics like 'The Scarecrow' and 'The Great Mystery' as well as speed classics such as 'Shelter From The Rain' and ballads like 'Farewell', the performance was very well balanced. The whole performance was very surprising as Avantasia isn't the biggest thing in the world yet they owned the headline spot like they should have been there, and all-around fantastic show, that this time apparently was the last for a very long time (Tobias stated this in an earlier press conference but admitted it probably won't be the last one ever). A great way to end the string of headliners as you just can't hate Avantasia!
CREMATORY
I have been a fan of this band for so many years, and they have had a major impact on my love for metal. I know that few have heard of them, but seeing this band is always a big deal for me as they rarely tour or do any shows, but they can't turn down the opportunity to play Wacken. The gothic metal outfit stormed on stage with and started chugging out the headbanger riffs of 'Until The End', kicking off a good hour of classic Crematory that didn't use their time just to simply promote their new album. This is another one of those bands that serve as ambassadors to German proficiency when it comes to performance, effortlessly playing their songs with a great, sharp and industrial sound. The band just know what they are doing, and while the performance was nothing special it did show why the band have mastered their genre over their last 25 years. Highlights included the sing-a-long track 'Tears of Time', and the body-moving 'Tick-Tock'. It was a nice performance to begin to close the curtains on a great festival.
SCHANDMAUL
Unfortunately I didn't get to see the opening of Schandmaul as they overlapped with Crematory, but I got there in time to see the second half of the final show of the festival. While I said earlier in the article that there are tons of these German Mittelalter bands on the smaller stages as they are incredibly popular in the country, Schandmaul and In Extremo share the title of the Godfather's of the genre being at the peak of the genre's popularity. At least one of these two play Wacken every year, and this year it was Schandmaul's turn to close out the festival. I arrived for the start of the track 'Vogelfrei', and of course the massive crowd in front of the band were responding so well to the band and wnjoying every minute of it. While the musicianship of Schandmaul is impressive they don't seem to move a whole lot on stage, they kind of let the music do the talking when emitting energy to the crowd. It's a bit boring to watch but the audience was definitely impressed. The band played hits like 'Traumtanzer', and of course finishing off the festival with 'Auf Euch' where all sadly began to trickle home. It was sort of a poetic performance to close the festival, as it was just enough to provide a good ending while most festival goers were exhausted after a long weekend (or even week for some) and just didn't have much more to give. Until next year Wacken, until next year!