Vader Release Artwork For New Album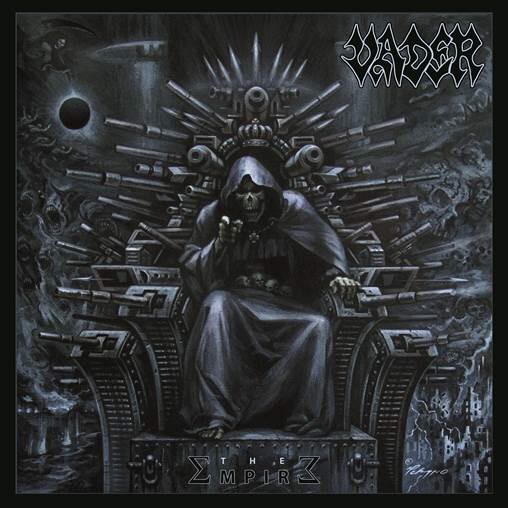 Vader of Thrones anyone?
Revealing the artwork for their forthcoming record today, Vader have shown us their Empire. Sorry just had to. In a kind of amalgamation of Uncle Sam, Spiral Clothing, Hellraiser and Game Of Thrones Vader have unveiled probably their new artwork for the forthcoming November 4th release The Empire.
The artist, Joe Petagno, who has had the pleasure of working with classic acts the likes of Judas Priest, Zeppelin and Motörhead to name a few has definitely got a specific style that has been with the band for a long time echoing their roots in Heavy Metal despite their Death Metal tag.
King of the undead warlords Piotr Wiwczarek states :
"Here is the cover artwork for 'The Empire' created by Joe Petagno himself!! The design as a whole includes many details connected to the main theme which influenced me before and during the process of recording: war and the 'cold crisis' around us today. There are also links to couple of famous movie series, which influence the generations and erupt with violence, hate and 'imperial tendencies'… Is this just a fantasy or maybe a sign of the 21st century generation? You have to answer that yourself… and the future will show us. Enjoy 'The Empire' and join us on tour soon!"
The band have also released the track listing for the new album which is as follows:
Angels of Steel
Tempest
Prayer to the God of War (album edition)
Iron Reign
No Gravity
Genocidius
The Army-Geddon
Feel My Pain
Parabellum (album edition)
Send Me Back to Hell
Two of the tracks that had appeared on the ripping Iron Times will be appearing on the album, though it seems that there might be some tweaks given the fact that it is stated they will be album versions meaning that they might not be the same thing that we have previously heard on the EP.
It will be interesting to see what kind of direction the band have chosen to go in on their new album.
Until we get another new song check out the artwork before its November 4th release via Nuclear Blast.