Survival Guide To Wacken Open Air 2015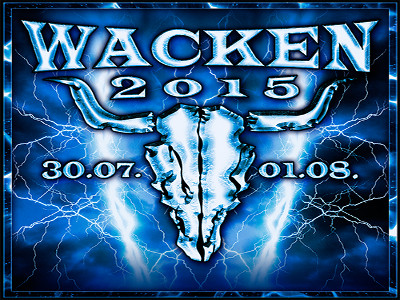 It's not long now until the world descends upon the heavy metal Mecca known as Wacken Open Air – if you are one of the lucky 75'000 metalheads that will be going this year, here is a handy guide to make sure you get the best out of the holy Wacken land!
With Wacken now the world's premier metal festival, the organisers have ensured that every year the festival experience has even more to offer. We have you covered:
The Festival

Not only is Wacken one of the most well-equipped metal festivals, it is one of the most well equipped in the world! Ranging from stages to food plazas to a whole medieval village; veterans of the festival will tell you that nothing disappoints.
Let's start with the most important aspect of the festival – the stages:
Wacken has two main stages that you'd have to be completely out of your mind to miss. Donning massive PA's, a huge steel casing and draped completely in black with the iconic bull skull of Wacken ever-gazing over the large plains before them – they are two stages fit for metal artists aptly named the 'True Metal Stage' and 'Black Stage'.
Here are the artists that will be gracing these stages throughout the festival:
True Metal Stage
UDO, Rob Zombie, Savatage, Ensiferum, Kvelertak, Queensryche, Dream Theater, In Flames, The Bosshoss, Powerwolf, Danko Jones, Bloodbath, Judas Preist, Subway To Sally
Black Stage
Skyline, In Extremo, Trans-Siberian Orchestra, Epica, Sepultura, At The Gates, Opeth, Black Label Society, Running Wild, Khold, Amorphis, Rock Meets Classic, Sabaton, Cradle of Filth
And for those who prefer the more intimate settings with some of your more underground bands, Wacken has a few more stages that will keep you entertained. First off being the larger of the smaller stages named the 'Party Stage', a stage that lives up to it's name with artists such as Alestorm getting over 15'000 fans to do a mass rowing, and Knorkator getting fans to create a human pyramid. Bands that will grace this stage in 2015 will be:
Party Stage
Angra, Falconer, Stratovarius, Annihilator, Oomph!, Within Temptation, Kataklysm, Mushroomhead, Biohazard, Cannibal Corpse, Santiano
We move on to the two smaller stages now that could be named as the 'little brothers' of the Wacken land – always side by side and always packing a punch! Last year bands like Decapitated and Russkaja rocked these stages – and this year there are some great bands playing – including victors of Wacken's worldwide competition 'Metal Battle' and the Wacken standard 'Metal Karaoke for those brave enough to sing to the metal elite. Oh and let's not forget – a wrestling show!
W:E:T Stage
Metal Battle, Deadiron, John Diva, Mambo Kurt, Uli Jon Roth, Metal Karaoke, Dark Tranquillity, The Quireboys, Mantar, Zodaic, Butcher Babies, Stoneman, Anaal Nathrakh, Death Angel, Samael, Nuclear Assault, My Dying Bride, Victims of Madness, The Black Spiders, Godsized, Beyond the Black, Crytopsy, Morgoth, Exumer, Obituary, Shining
Headbangers Stage
Metal Battle, Wrestling, Grailknights, New Model Army, Europe,  Noctiferia, Combichrist, The Answer, Architects of Chaoz, Ancient Bards, Crossplane, Truckfighters, Kaerbholz, Thyrfing, Armored Saint, Ill Nino, Burgerkill, Breakdown of Sanity, Avatar, Kommando, Walking Dead on Broadway, Skindred, Suicide Silence, Blood Red Throne, Waltari
We cannot forget the stages that are the absolute pride and joy of the Wacken experience – the three tiny stages situated at the heart of the atmospheric settings that the festival offers. The Wackinger stage erected in the medieval Wackinger Village providing a home for folk metal bands and Mittelalter rock. The Beer Garden stage, well you can probably guess where that is…built for prime entertainment while guzzling down litres of beer! And one of the more recent additions and definitely the most unique – the Wasteland stage, built from ruins in the Wasteland Warrior region that depicts an apocalypse in the vein of Mad Max: Thunderdome. Most of the bands on these stages have one set a day unlike others, but believe us from experience – you may not have heard of them, but you will definitely want to see them more than once! Bands playing are:
Wackinger Stage
Vroudenspil, Comes Vagantes, Mr. Hurley und Die Pulveraffen, Ye Banished Privateers, Pampatut, The Gentle Storm, Knasterbart, Feuerschwanz, Baltic Sea Child, Tears For Beers, Eric Fish & Friends, Harpyie
Beer Garden Stage
Fat King Konrad, Steve 'n' Seagulls, Mambo Kurt, Cultus Ferox, Bembers, W:O:A Firefighters, Blechblosn, Alkbottle, Asrock, Drescher
Wasteland Stage
Megabosch, Monstagon
Entertainment

For those that need the odd break from the music, or just plain interested to see what non-musical things Wacken has to offer, the festival provides plenty of entertainment in different regions of the festival.
Metal Market
There is no other place on the planet (that we have seen at least!) that has such an expansive marketplace entirely dedicated to metal. CD's, albums, collectables, clothing and weird and wonderful things on sale from merchants that are based throughout Europe. Survival essentials are also available here for sudden changes in weather i.e. ponchos, shorts, masks…and if you need to keep your phone charged to continue to take pictures of your festival experience, there are stalls available to do so – it's safe – don't worry! Open daily from 10:00am – 4:00am.
Wasteland
As aforementioned, the Wasteland is one of the more recent additions to the Wacken land, but a very welcome one indeed! Apart from the stage, the whole region is built with ruins and bits and pieces to simulate an apocalypse. Warriors and bandits roam the area in their custom cars, with a fighting pit set up to watch these warriors combat for Wacken glory. A massive fire show by Henry Hot is performed every night, along with a 'Light and Freak Show' to top it all off!
Wackinger Village
A whole medieval village! What festival can boast that?! Vikings, knights and all shades of medieval folk are spread around the wood-and-straw-built village that includes, armour and weapon merchants, a blacksmith, axe-throwing stall, shisha lounge, mead & ale stalls, food stalls and a jousting range! It's just not a festival without a good old joust right?
Bullhead City Circus
The name of the tent that houses the two smaller stages of the festival, the W:E:T Stage and the Headbangers Stage. Metal karaoke that takes place in here is always a great laugh, as well as the Wacken wrestlers who reach for the stars in oiled-up hand to hand combat.
Movie Field
Every night if you feel like winding down with a beer and a film, Wacken provides a movie field with a big screen showing the Wacken Movie, and Lemmy – The Movie. The big screen also provides coverage of the bands playing on the main stages if you are unable to make it on to the main festival field.
Food & Drink
Rarely does one say, 'the food at the festival was great'. This is something you can safely say at Wacken, as veterans of the festival have enjoyed the food so much over the past few years that the Wacken staff have now included a food award for the best stall at the festival!
All standard cuisines are available areound the festival grounds to keep your energy levels up, including pizza, burgers, kebabs, Chinese, pasta and of course lots of traditional German fare for those making the trip from overseas. Bratwurst, currywurst and pretzels are in abundance!
The Wackinger Village is the place to be to try the special food stalls, including huge chunks of meat on a stick, fresh pork roast from a pig on a spit, wood smoked salmon and many more…some food for the more adventurous, but all delicious. Ripping into a giant chicken leg with a flagon of mead in your hand makes for a pretty metal experience.
We can tell you now that you will never need to ask to find beer at the festival. It is everywhere, and when we say everywhere, we mean bloody everywhere. Beer stalls serving small (0.3l) and large (1l) beers are in every pocket of the festival, with most stalls also including options for wine, mead, spirits, mixers, and some even with cocktails! Soft drinks and water are of course widely available too.
In the Wacken town (about 10-20 minute walk from the camp site depending on where you are) there is also plenty of food and drink stalls about. They are the cheaper option, and good places to take a rest from time to time, but they are a ways away from the festivities. For your tent, there are shops in town where you can stock up on beer and camp food.
Amenities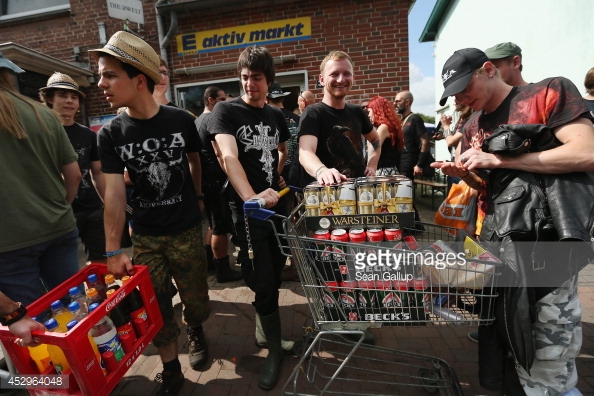 We've said that Wacken is one of the best equipped festivals in the world, and we truly mean it. At The Metalist we have veterans of festivals spanning across the globe, and not just metal ones, and mutually agree that it is unbelievably equipped to handle festival fan needs.
On arrival at Wacken you will be given a 'Full Metal Bag' with a few camping essentials to make your life a bit easier – it includes a few Wacken memorabilia, ear plugs, a foldable water bottle (we can't stress enough how useful and amazing this has been!), a poncho, condom (black, of course) and a clothes hook.
Toilets and water are available throughout the festival grounds, and have been very clean by festival standards throughout the 11 years we have been attending Wacken. Do consider bringing toilet paper if you need to do more than just pee, as it does disappear quite often! Private toilets are available for hire throughout town for that cosy dump, and you will find that private showers are also available for hire courtesy of the townsfolk, for a very reasonable price.
Medicine, camping equipment and more are available in town including festival memorabilia which you know you will want to take home with you.
So there you have it, The Metalist's survival guide to one of the premier metal festivals of the world! If you are going this year, we will see you in Northern Germany friends!