Six Feet Under Announce Torment Album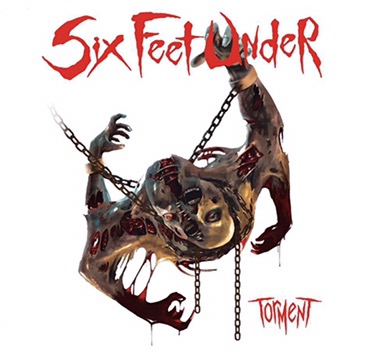 Everyone's reliant Death Metal troupe have announced their brand new album Torment and it's got some brutal artwork!
Titled Torment their brand new album will be released as early as next month on February 24th via Metal Blade. Produced by Carson Lehman the record was mixed by our famous Zeuss, the man responsible for the production of the latest Revocation releases to name a few.
Not only does this announcement for a new album come out but the band have made a brand new single available for streaming. "Sacrificial Kill", the first example of new Six Feet Under material sounds similar to where the band left off on Crypt of The Devil. Rooted somewhat more in the vein of classic early Cannibal Corpse the main verse is a lumbering section with a diminished style hammer on lick, before a bridge brings in brutal blast beats which add diversity to what could have been a bit of a tiresome listen.
See for yourself!
Torment track listing :
01. Sacrificial Kill
02. Exploratory Homicide
03. The Separation Of Flesh From Bone
04. Schizomaniac
05. Skeleton
06. Knife Through The Skull
07. Slaughtered As They Slept
08. In The Process Of Decomposing
09. Funeral Mask
10. Obsidian
11. Bloody Underwear
12. Roots Of Evil