Live Review: Sabaton + Alestorm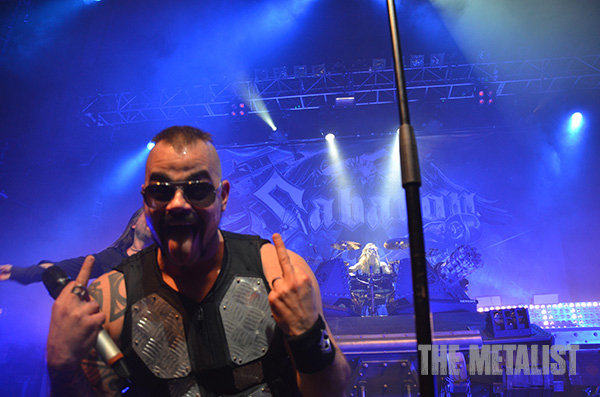 It's another one of those beloved metal evenings in London when two or more mega groups combine to give us an epic line-up. Tonight it's all about tanks, dragons, pirates and mead and Sabaton, Alestorm, and Bloodbound bring their heavily-armed war machine into town.
10th March 2016
Kentish Town Forum
London, UK
Support Bands: Bloodbound
Bloodbound
It's the fantasy power metallers that kick off tonight's proceedings with a bang and a half. Never having the pleasure of seeing Bloodbound live before, I was not quite sure what to expect, but all inquisitivities are tarnished when the band storm on stage.
The Swedes stage attire make the performance all the more theatrical, with the frontman donning devil horns on his forehead and draping himself in a crimson blazer, with the rest of the band omitting that classic European power metal sound donned in black and chains.
Clearly there is more appreciation for Bloodbound than anticipated, but it's easy to see why. There's a lot of movement, a lot of solos and a lot of fans involved in each of their anthems that they pumped out. Lots of fun for all, and a perfect warm up band for the excitement to come!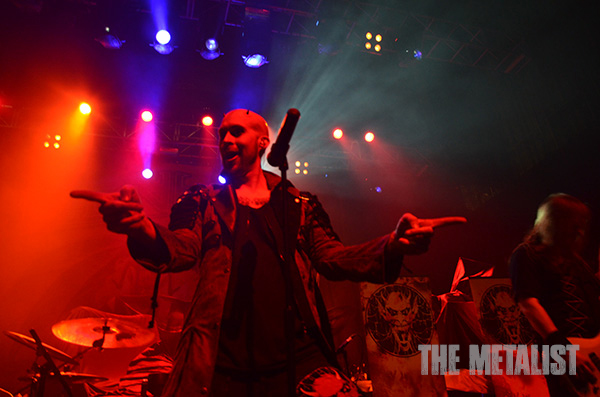 Alestorm
So there's a giant rubber duck on stage…actually the whole stage is draped with ducks with banana bodies. Why? It's Alestorm of course, and their tongue-in-cheek humour is why they are such an entertaining prospect in the live arena. It's another one of those bands that started in a pub, and no-one in a million years would have thought that Alestorm would be performing to a sell out crowd this evening.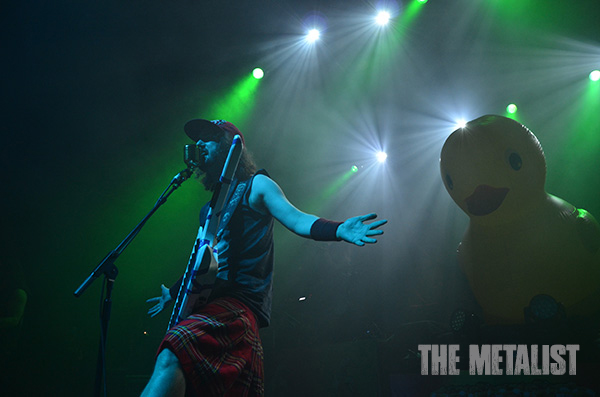 But alas, The Forum explodes into life when 'Keelhauled' resonates through the room with a deafening 'Yo ho ho!' coming from every fan, top, bottom, far and wide. It's everything you want from an Alestorm show – high energy and complete, unadulterated fan involvement.
The band continues to churn out the Alestorm sing-along classics such as 'Over the Seas' and 'Shipwrecked', with of course special emphasis being put on drinking aspects. The party is raging, and completely makes you forget it's a Thursday night, and there is the potential of work the next day.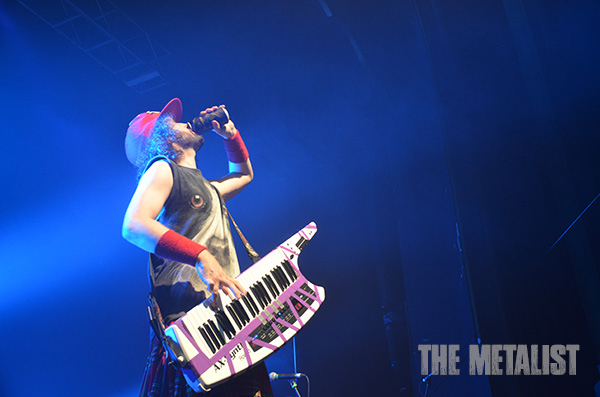 But tracks like 'Nancy the Tavern Wench' and 'Wenches & Mead' create the illusions of a Tortugan pirate rave, with bodies flying and soaking the air with spilled beer and rum. Alestorm's success story is as apparent as ever. They always bring the party, on record, and even more so on the live stage.
The final tracks of 'Captain Morgan's Revenge' and 'Rum' put the pirate party to rest for the evening. With the onslaught that was Alestorm, one would think that all fan energy would have been expended…but now it's time for tanks.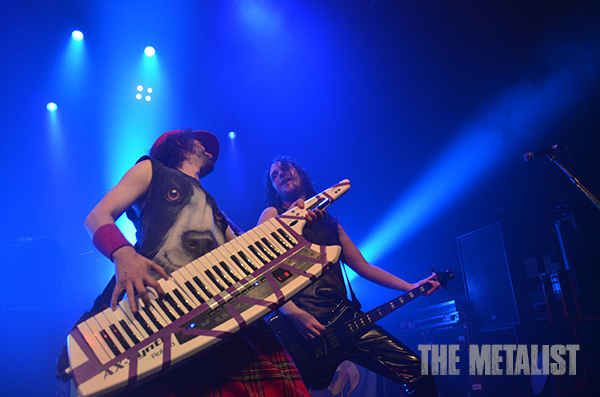 Sabaton
I've probably said this before somewhere, but I always feel like I need to say it again as Sabaton's career has been such an inspiring rise.
I saw Sabaton at their first UK show in 2006 supporting Dragonforce and Edguy, playing a short 15-minute set that was completely underwhelming in comparison to the visual war-fuelled stage set they have tonight. I thought the band would always be one of these small bands limited to that war theme, not really able to go anywhere – but I'm happy to say that I was dead wrong.
Sabaton have risen to be one of European metal's premier acts, through hard work, unbelievable live shows and pure passion for heavy metal. It's shown straight away when the band storm on stage for the traditional opener of 'Ghost Division'. It's all high-flying kicks, battle gear, and pure heavy metal, and that's just the beginning.
It's clear that Sabaton absolutely love what they do, and embrace that battle theme as their node of a live performance. Anthems like 'Uprising' and 'Midway' prepare fans for battle with the whole room absorbing every hardened note, before the band bring out their humourous side in banishing frontman Joakim Brodén from the stage to perform the Swedish version of 'Gott Mit Uns'.
The night progressed with a setlist of pure classics that ensured fan lungs were in full use, including the riveting 'Carolus Rex' and 'The Art of War'. Of course they didn't forget the career defining 'Swedish Pagans', of which fans were chanting the hook well before the performance even began.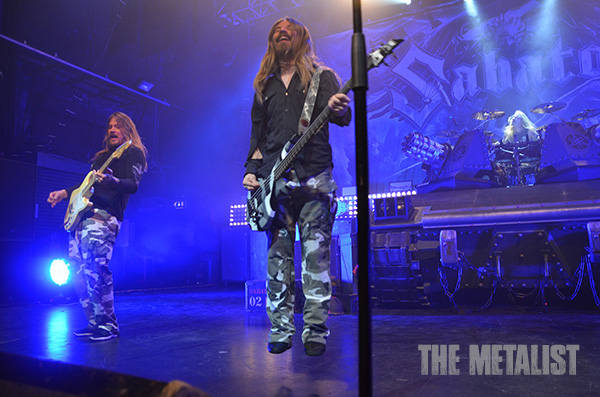 Sabaton are on their way to becoming a giant. There really is no question about it. Every time the tour they gain legions of more fans, and that is evident from the final track of 'Primo Victoria' where not one soul isn't jumping. The way they are going, it's not unreasonable to believe they could cement their place in the next wave of heavy metal legends. They are so popular in Europe now, the world is next.