Live Review: Metal Alliance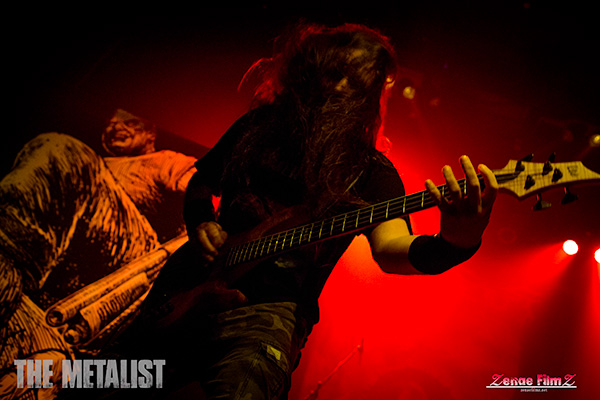 A massive line-up of Dying Fetus, Acacia Strain, Jungle Rot and Black Crown Initiate struck New York City, and we were there to basque in it's full metal glory…
May 1st
Gramercy Theater
New York City, NY
Support Bands: Acacia Strain, Jungle Rot, Black Crown Initiate, Reaping Asmodeia
Earlier in March the announcement of 2016's North American Metal Alliance Tour was officially made with different flavors of Metal. The lineup consisted of Death Metal icons Dying Fetus, the Metalcore group Acacia Strain with Jungle Rot and Black Crown Initiate. During this tour bands, Nylithia and Reaping Asmodeia were rotating on particular dates as direct opening acts. I was excited to see this lineup and on May 1, 2016, I managed to see this batch with Reaping Asmodeia at the Gramercy Theatre in New York City.
The evening started promptly actually, a bit earlier than expected as Minnesota Deathcore-tech Metallers Reaping Asmodeia took the stage. Despite forming in 2010, it was only recently when Prosthetic Records signed with the group where a new album is expected to be release sometime this summer. Sadly I missed half of their set, but I did catch the end where I saw Steven Lane (vocals), Alexander Drake Kelly (guitar), Daniel Koppy (drums) and Roman Pinter (bass) encouraging the crowd to mosh across the venue's floor. These guys were ambitious on and off the stage as they made sure everyone knew who they were that night.
Up next were the Progressive Death Metal act from Reading PA, Black Crown Initiate. Ironically the band features a familiar face where former Jungle Rot drummer Jesse Beahler has joined the group, the rest of the pack includes James Dorton (vocals), Rik Stelzpflug (guitar and vocals), Andy Thomas (guitar and vocals), and Nick Shaw (bass). It wasn't too long ago when the band was discovered back in 2012. However, their third full-length album under e0ne Music Selves We Cannot Forgive is set to release in July. The stage was dimly lit, as they sung about revenge, hate, and pain with songs such as "The Malignant," "The Fractured One," "A Great Mistake" and the newest track "For Red Cloud." It was right after their set when I heard a fan scream out, "that's a fucking Metal show!" That pretty much sums them up right there.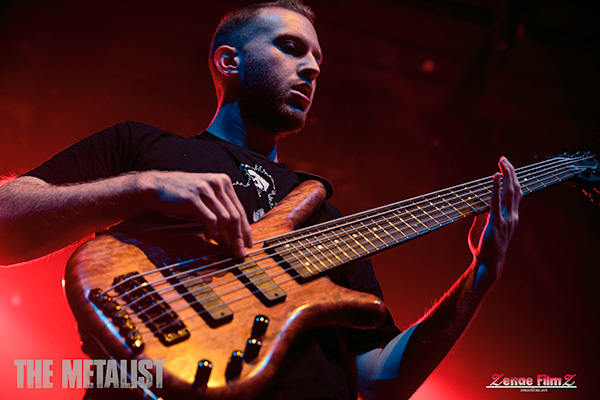 As things were heating up, it was time for Wisconsin Death Metallers Jungle Rot to dominate the platform. Since their formation in the mid-nineties the lineup has changed where Dave Matrise (vocals/guitar) is the only original member and the rest includes James Genenz (bass), and Geoff Bub (guitar). Signed with Victory Records, Jungle Rot is continuing to support their ninth studio album 2015's Order Shall Prevail. To simply phrase it, they are dynamite live and filled with energy, headbanging insanity and killer riffs. I was hooked throughout the entire set that included tracks "Strong Shall Survive," "Strangulation Mutilation," the abrasive "E.F.K" that stands for "Eat, Fuck Kill," and closing with "Ruthless Omnipotence." The crowd remained engaged where there were several chanting and headbanging cheers.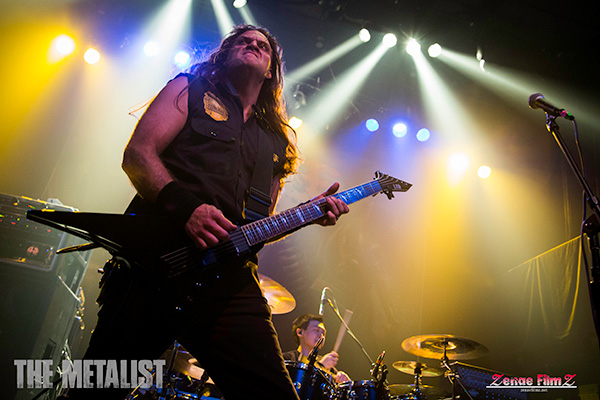 This is where the night took a different turn as after being there I would think Jungle Rot would have been a better fit to be the direct support for Dying Fetus. However, it was time for the Metalcore act Acacia Strain. Their journey has had a handful of lineup changes since the initial formation in 2001 where frontman Vincent Bennett is the only original member, and the rest includes Kevin Boutot (drums), Devin Shidaker (guitar/backing vocals), Rich Gomez (guitar) and Griffin Landa (bass). There was a lot of movement on the stage as they continued to perform older tracks of theirs since nothing new has been released since 2014's Coma Witch. Bennett wanted everyone to have fun as he promised to play old songs for the crowd and demanded circle pits. This time around Bennett walked up to a handful of crowd surfers and grabbed the mic for them to join in on a part of the songs. It was a ruthless set as they went into songs such as "Holy Walls of the Vatican," "Above," and "The Impaler." During the end of their set instead of throwing the standard drumsticks and guitar picks, they also through leftover water bottles to the crowd.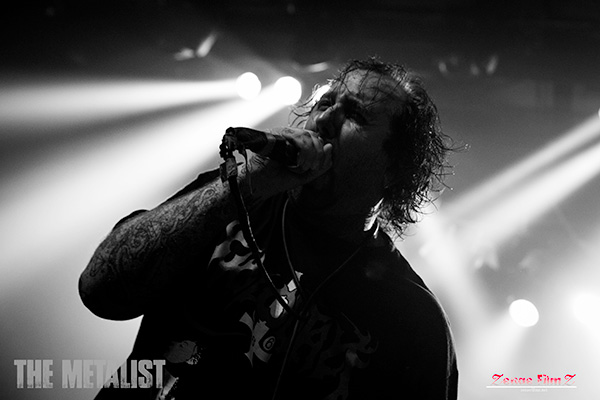 Finally, it was time for Maryland Death Metallers Dying Fetus to rule the evening. The band has gone a long way since the formation in 1991 where John Gallagher (guitar/vocals) is the only original member, and the rest currently includes Sean Beasley (bass/vocals) and Trey Williams (drums). Despite the purposely offensive name, their music has become highly influential in the Metal scene over the years that consists of Modern day issues and genius riffing complexity. There hasn't been anything new since 2012's Reign Supreme, and on this evening, fans were ready to bang their heads to familiar tracks. I was lost throughout their set just like everyone else; we all let go and engaged deeply into the music. Songs such as "Schematics," "One Shot, One Kill," Your Treachery Will Die With You," Shepherd's Commandment," "From Womb to Waste," "Induce Terror" and "We Are Your Enemy" kept pouring. I don't think there was too much interaction as the focus was mainly on performing with enjoyable brutality.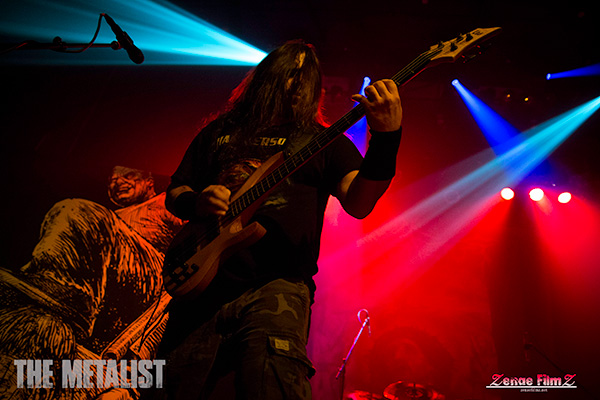 It was quite a pleasurable Sunday evening where I was looking forward to walking into work the next day with a bit of well-worth it tinnitus ringing in my ears. Hopefully, Dying Fetus will release a new album and come around again.
Written By,
Zenae D. Zukowski