Karin Axelsson Officially Departs From Sonic Syndicate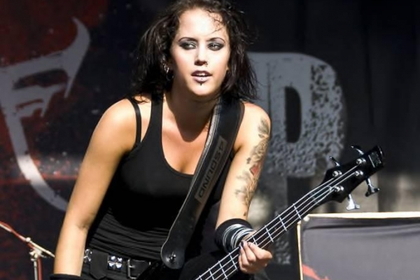 Absent from the band for a while, bassist Karin Axelsson has officially announced her departure from modern metallers Sonic Syndicate.
Without further ado, she released a statement confirming she was leaving the band:
"As most of you know by now, I haven't been touring with my boys in Sonic for a while.
"Sonic Syndicate has been my family and my life for many years and I've met so many great people and experienced things I never thought I would. I've had the time of my life — so many of my dreams have come true in so many ways — but sometimes you have to make hard choices in life, and it's time for me to move on, because I am in a place where I need to focus on my family and private life.
"I hope you understand my decision.
"I would like to thank all you guys who came out to our shows for your endless love and support. It has meant so much to me and the guys that we could never express in words how we feel.
"Before I officially go and start my new life, I'd like to ask you one more thing. Please take care of the boys, my brothers, because I love them with all of my heart, and although we'll keep contact and see each other from time to time, I will truly miss them and the music we've made together.
"So, with everything above said and done, I would like to officially introduce Miche to the Sonic Syndicate family. What I ask from you guys is to please open your hearts for this great guy who's an awesome bass player and give him a warm welcome."
As said in the statement Sonic have tapped a new bass player by the name of Michel "Miche" Bärzén, and have introduced him with a brand new video for 'Diabolical Work of Art' taken from their self-titled album released last year.