GWAR To Attempt Tour Without Oderus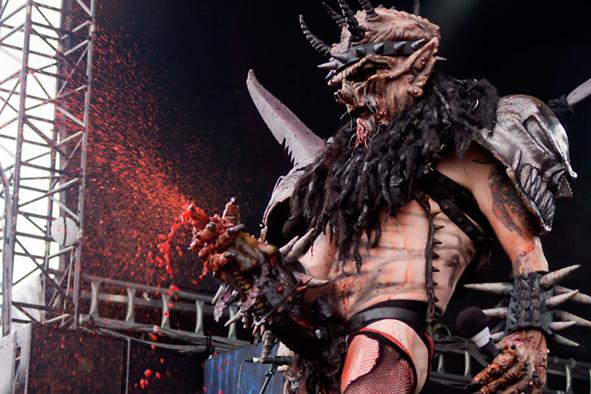 As we thought that shock-rockers GWAR we're over following the untimely passing of their iconic frontman, it appears that the remaining members have not buried the band just yet…
Dave Brockie, or better known to us as Oderus Urungus sadly passed away last year from a drug overdose and deeply saddened the metal community. He was the key piece in GWAR's unforgettable live shows, leading giant monsters and badly impersonated celebrities on stage to be decapitated and disemboweled only to bleed multicoloured blood all over the audience. Oderus became famous worldwide from his character, acted out in all interviews, talk shows and reality shows, and it's down near impossible to foresee a future of GWAR without him.
But it seems now that GWAR are going to see what they can do without him. The band were to play one show without Oderus in his memorial – the annual GWAR-B-Q, and now they are going to attempt an entire North American tour. In a recent interview with drummer Jizmak Da Gusha (real name Brad Roberts), he revealed the tour:
"Yeah, there will be a fall US/Canadian tour from GWAR this year, and it will address the mythos of what happened to Oderus Urungus and give the fans, the GWAR fans that we love so much, a way to come pay their last respects and see the band that they love. It's an exciting time, and it's also scary because it's a daunting task, but GWAR is always up to the challenge. We gotta saw off a couple heads to get there, no problem."
Who could possibly live up to the vocal duties and take control of the axe that beheaded so many? Well it appears GWAR have decided to keep it in the family, handing the torch to ex-guitarist Beefcake the Mighty (real name Mike Bishop). And not only is there a tour planned, but new material too! Balzak went on to reply when asked about new GWAR music:
"Well actually there is. We're approaching 30 year anniversary, there's talk of boxed products that will come from GWAR, and with Mike Bishop coming back in, we're definitely writing some new songs and we'll have something to show that GWAR is moving forward, and it's not stopping. Of course we're in very much support of Battle Maximus record, which we're all proud of and still need to bring that show to a lot of towns in the country, but I would say you will see some new stuff from GWAR coming up. Absolutely, especially because it's the 30 year anniversary, we're gonna blow that thing out. What other bands are out there and not old men drooling and pooping in their pants that can say they have been around for 30 years."
Oderus is simply irreplaceable, and it's very hard to see a proper GWAR show without him. We hope the band can see a new angle and that Beefcake can pay tribute to Oderus with more music, more blood and more dismemberment!