Event Review – Entombed AD At The Underworld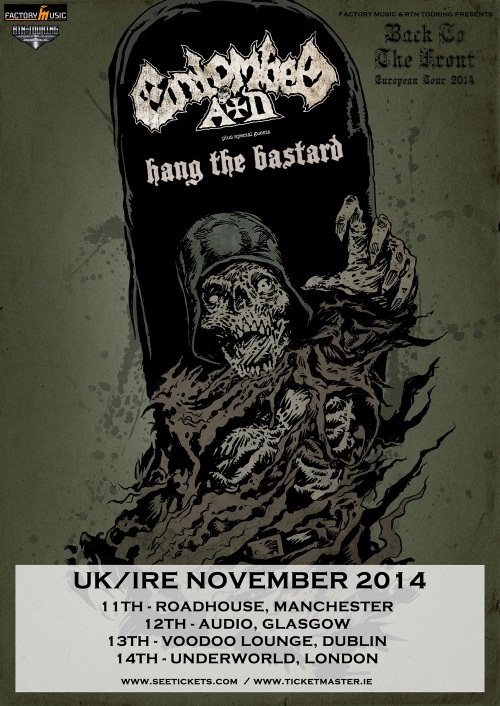 A band with a legacy like the death 'n' roll creators of Entombed (AD) are a fickle character. With the geniuses of The Underworld management trying to cash in as much as possible the band come on at much earlier start than usual, to make way for a club night afterward. Meaning their set is more brief but not spared of any more energy. LG Petrov and his cronies are out on the stage and giving it their all. With incoherent babbling which only translated by the arrival of intro riff for "Wolverine Blues". Cue crowd surfing to your heart's content, after more choice cuts from albums far and wide and a slight technical issue due to a fans not so dexterous feet causing a jack to be unplugged Entombed AD are giving it their all. With more songs from their Clandestine era not forgetting the inclusion of the vastly less death 'n' roll new material from this years fairly average Back To The Front, what everyone wants to hear is Left Hand Path.
And they get it. However Entombed AD are not Entombed, disregarding any altercations that may have arose within the band. Tonight the band feel much more like a tribute band. Their sound, although being some of the best mix in The Underworld I've heard to date just doesn't match up to the songs integrity. Creating a more compressed sound, mirroring a more modern band rather than the grit chewing death metal pioneers of old, it just doesn't sound the same. "Living Dead" is blasted out and met with applause from all in the venue but lacks the punch that the original impact Entombed always delivered. Especially with the now departed Alex Hellid a large influence on the band not being present after the announcement of his departure earlier this year, makes Petrov the final original member.
Nevertheless that doesn't mean that its not a good show, for what its worth the energy in the room is tangible. Smiles all round from ear to ear its clear that Petrov and co are having a fantastic time but as they move into the lauded "Left Hand Path" the tone is off and sounds like a band that is trying to sound old. Rather than patching in from their beat up amps to give that inimitable organic chainsaw buzz guitar sound synonymous with the band they try and recreate something that just isn't there. More to the point a covers band playing music with so much energy that its applaudable but it just doesn't feel right tonight. Any fan of metal will surely have had a fantastic time, but if you were here to see Entombed unfortunately due to simple technicalities AD just missed the mark.