Arch Enemy Announce Split Tape With Kreator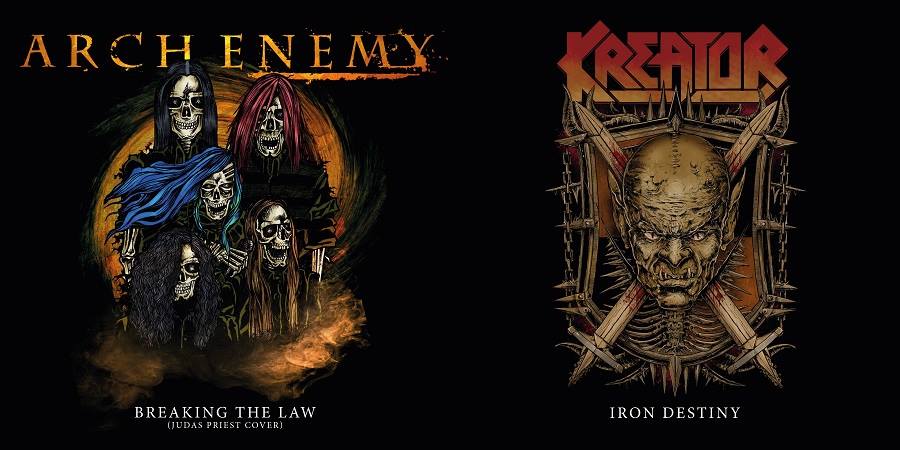 Following off our observation that tapes are coming back, now Arch Enemy and Kreator are jumping on that wagon announcing something else that we haven't seen in a good long time either…a split vinyl!
As Kreator will be directly supporting Arch Enemy on their North American and European treks, the bands will be producing a limited 500 vinyls and each include one unreleased track on each side of the vinyl. Arch Enemy releasing a cover of Judas Priest's 'Breaking the Law' on the first side and Kreator releasing a new track called 'Iron Destiny' on the other. Definitely a collectible and a must for any fan of the two bands.
The two mainmen of each band commented on the announcement of the split vinyl. Michael Amott of Arch Enemy commented:
"Super excited about the upcoming tours in Europe and USA with Kreator, and it's really cool to have this split vinyl 7″ coming out to celebrate the extreme metal party of the year! Covering the Judas Priest classic 'Breaking The Law' is obviously not the most original idea, but this is a heavily rearranged version that sounds very Arch Enemy, and anyhow there's no denying that the mighty Priest is a great influence on Arch Enemy… Enjoy this unique and limited Kreator/Arch Enemy release and see you on the road!"
And Mille Petrozza commented:
"Finally, after all these years, Arch Enemy and Kreator not only tour together, but will also release a split single! I have always been a fan of this stuff since these are special little collector's items. We chose the song 'Iron Destiny' for this. Lyrically this is a tribute to the early days of the band, the days when we were young metal-heads, discovering the music that we still love to this day. Kreator is looking forward to this run and we hope to see all of you!"
We look forward to November when this tour strikes Europe!