Album Review: Rage – The Devil Strikes Again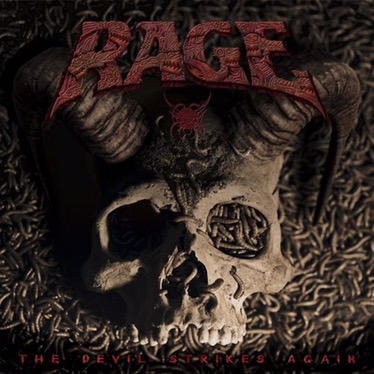 Rage are finally making a comeback after a year full of drama with their first studio album in 4 years. It's a passionate revival for the band that sits in the name, 'The Devil Strikes Again'.
Tracklist:

01. The Devil Strikes Again
02. My Way
03. Back On Track
04. The Final Curtain
05. War
06. Ocean Full Of Tears
07. Deaf, Dumb And Blind
08. Spirits Of The Night
09. Times Of Darkness
10. The Dark Side Of The Sun


Label: Nuclear Blast Records
Release date: 3rd June 2016

Rage have been one of my favourite bands for over a decade. Having discovered them early in the Victor Smolski era, it's a bit hard for me to contrive a brand new incarnation of the band despite going through many line-up changes in their 30 years of existence.
However mainman Peavy Wagner is determined to make a comeback that equals the passionate and aggressive Rage of old, and set the title of 'The Devil Strikes Again', a bold statement that the heavy metal trio are here to crush your skulls once again with the addition of Marcos Rodriguez on guitars and Lucky Maniatopoulos on drums.
The dawn of the new era makes it self known in the fierce thrashing of the album's title track, and sets a premise for the overall album – it's raw, it's heavy, it's definitely old school Rage, and it's simply brilliant. The guitar work is constructively rough, the vocals are grungy and the drums are thundering, every bar of music is as defiant as the next, and there is a vibe in the album that this is exactly how the band wanted it.
The band have set out to create an album that matches the aggression and passion of old, something that was lost along the way when Victor Smolski was at the helm of the songwriting process. Tracks like 'Back on Track' and 'Final Curtain' are excellent reflections of the holistic passion brought back into the Rage line-up.
'The Devil Strikes Again' is like the Leicester City of 2016 heavy metal albums. It may not be the most technically proficient, best produced, or classiest act – but it's an album of passion that grinds it's way into your heart. It's a team effort that drives and strengthens with each and every track, and before you know it, it's won the day.
The most valiant offering from the Rage camp since the classic 'Black in Mind'. It's raw, aggressive, and every corner of the album perfectly embodies the heavy metal spirit.