Album Review : Overkill – The Grinding Wheel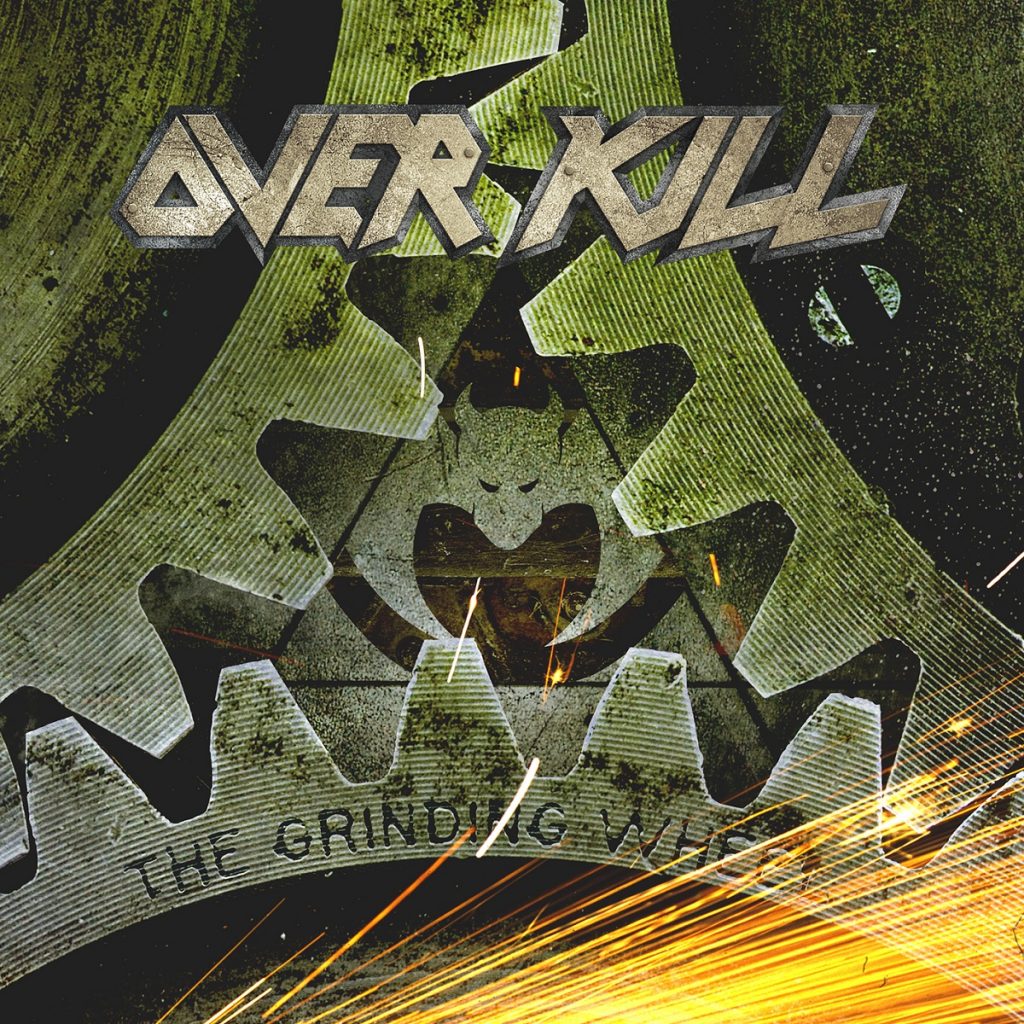 Traits of the underdog show persistence, tenacity and overall substance. Similar to the work ethic of the common man. Carrying on day after day, week after week turning up at the same job to log in and do your work. Taking this idea into a slightly different context Overkill return to celebrate tenacity, celebrate the steadfast to celebrate The Grinding Wheel.
Tracklist:
Mean Green Killing Machine
Goddamn Trouble
Our Finest Hour
Shine On
The Long Road
Let's All Go To Hades
Come Heavy
Red, White And Blue
The Wheel
The Grinding Wheel

Length: 60:00
Label: Nuclear Blast Records
Release date: February 10th 2017

Kicking things off with the call to arms and statement of their identity, despite being a misnomer for Bruce Banner "Mean Green Killing Machine" instead refers to the band. With its rolling tom intro coupled with a determined guitar, punctuating with precision whilst the trademark gutteral bass rumbles underneath. Despite its almost Sabbath-esque introduction its clear to see the youthful spit in the face of Overkill hasn't dulled in "Let's All Go To Hades" which acts as more of a Punk call to arms than Thrash Metal anthem. Often being able to lead themselves into pitfalls of sounding slightly similar instead Overkill have adressed this issue into the understanding that each song should different.
Of course the identity of pissed off banshee Bobby "Blitz" remains. Particularly in the gang vocals of "Damn right!" in "Red, White and Blue" bringing a more Hardcore element to the band similar to the Thrash genius in Suicidal Tendencies, showcasing their crossover elements. It wouldn't be an Overkill album without the just shy of nine minute closer title track "The Grinding Wheel" however. Marching band style drums and guitar give way to riffs that would no doubt cite Judas Priest as their inspiration. Yet the song remains just as theatric with almost Halfordian squeals from Blitz together with the solemn ringing out of bells, an outro as you would expect from the New Yorkers. Interest does tend to wane slightly in its midsection but is quickly regained for a stand out solo piece.
With no track running under the five minute mark there is a lot to get through in this hour of Overkill. "The Long Road" in particular brings back the sentiment echoed in their classic Under The Influence era Overkill. Make no mistake there is some serious shred going on throughout The Grinding Wheel another standout moment being "The Wheel" seeing all the cogs of the band well oiled to work brilliantly together. The swagger of "Come Heavy" again brings this territorial air that when listening you play by their rules. Hard to pinpoint, the record takes its time to assimilate, perhaps owing to the lengthy time stamp on each song. Once the tracks get firmly engrained in your mind those classic Overkill hooks, courtesy of the duelling guitarists well and truly sink in making album number eighteen (!) a triumph that might not have fans converting in their masses but will offer more than a few additions to the legions of Thrash fans out there. Whether or not you'll be in their way, the New York bruisers will be carry on doing just what they do best.
Fans of Overkill will be eager to pick up the brand new record, whilst new fans will be welcomed with open arms. Using the same tenacity as the band, there are some real gems on The Grinding Wheel worthy of addition to a new or growing collection.