Album Review : Nova Collective – The Further Side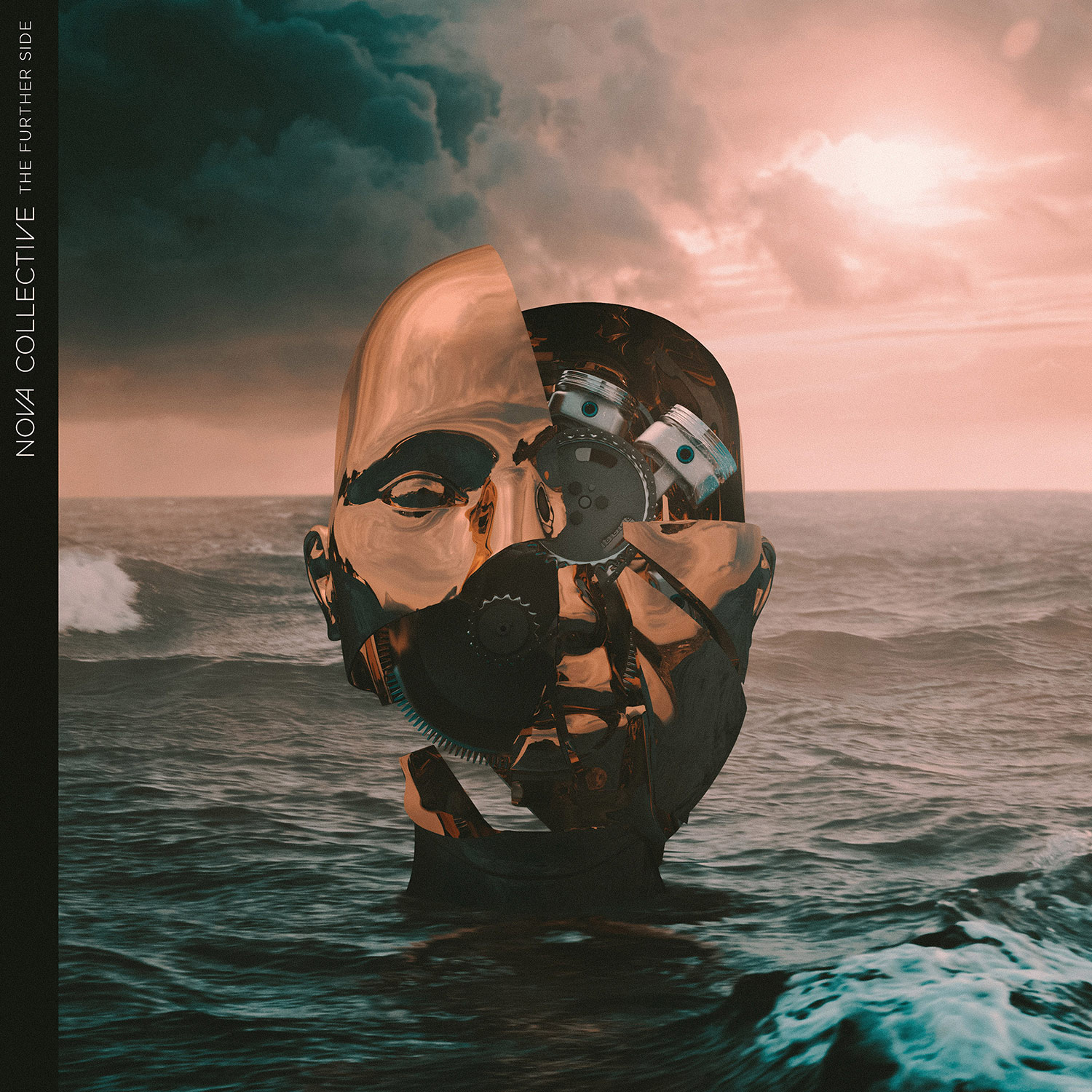 Orienteering, aside from being incredibly boring, is also incredibly hard. For those who aren't Bear Grylls reading the signs of the setting sun in the west, drinking urine and checking compasses really won't do! Similarly at times the listener can get lost, particularly in the treacherous environment of Prog. Banding together to deliver something entirely different we welcome Nova Collective, our metaphorical compasses to help guide us through the labyrinthine layers of Prog.
Tracklist:

Dancing Machines
Cascades
Air
State Of Flux
Ripped Apart and Reassembled
The Further Side


Length: 48:00
Label: Metal Blade
Release date: March 10th 2017

A hybrid of a progressive nature Nova Collective are a combination of some of the most forward thinking minds in Modern Metal. Anchored with the song writing of Dan Briggs of BTBAM fame and Richard Henshall of Haken the band expanded to include drummer Matt Lynch and keyboardist Pete Jones. Banding together to fuel their inspiration for their fierce creative juices the band present their first example of new material The Further Side. As the name might suggest this is far out stuff. Melding elements of Jazz Fusion and Metal to create a truly unique sonic landscape. Beginning our foray into the unknown the expansive "Dancing Machines" makes its wiley way trough undertones of eighties classic Holdsworth style chords amongst a blanket of neatly crafted interplay between both bass, which takes up the role of rhythm guitar almost contrasted with Henshall's indecisive lead guitar.
Opening With xylophones, sounds in "Air" creates a perfect space age quality. Leaving Briggs' bass open without distortion the song sees more interplay between keyboards whilst being structured by Lynch's drums. Before an Asian sounding unison section to create a beautiful vista not without putting it through the science fiction style filter first however! With no track being shorter than just under the six minute mark, the material presented on Nova Collective is nothing short of an instrumental feast. Title track "The Further Side" sits just comfortably sounding like Gosling's soft touch on piano in La La Land right to expansive Sci-Fi.
Made only possible owing to the bands combined instrumental capability, this is not something that a band with no talent could pull off.
Typically sidelined immediately, the off kilter piano of "State of Flux" coupled with falling of the face of the earth to wander the cosmos style guitar temporarily before like everything coming right back to its coda. Less Metal and more Jazz Fusion The Further Side is a tripped out space ride into the prism of music. Channelling that explorative seventies style curiosity the genre was pioneering even at times sounding like a band enjoying themselves, particularly "Ripped Apart and Reassembled". However unlike Fusion, it is easy to follow. Rather than taking all walls of down to create true, free form jazz, Nova Collective nudge like a musical Sam Wise would a lost (and totally useless) Frodo. With the use of absolutely fantastic musicianship, Nova Collective have created an album that Prog fans will gravitate to. With musical ideas far beyond the genre regurgitating station it makes for an absolutely fantastic, different take on a genre often incredibly hard to navigate.
Combining elements of their own groups with a limitless sense of musical discovery, Nova Collective thrive on originality all the while encompassing all elements of science fiction. This is nerdy Prog at its finest. 
If you like what you read / heard then you can pick up a copy here!