Album Review : Coal Chamber – Rivals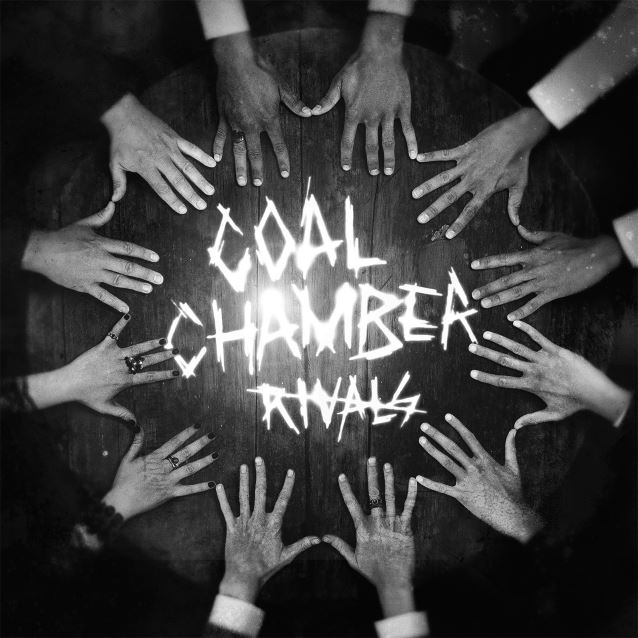 Our verdict on Coal Chamber's first album in 12 years is in…
Tracklist:

01. I.O.U. Nothing
02. Bad Blood Between Us
03. Light In The Shadows
04. Suffer In Silence
05. The Bridges You Burn
06. Orion
07. Another Nail In The Coffin
08. Rivals
09. Wait
10. Dumpster Dive
11. Over My Head
12. Fade Away (Karma Never Forgets)
13. Empty Handed
14. Worst Enemy


Length: 42:00
Label: Napalm Records
Release date: 19 May 2015

It would seem that Coal Chamber have been communicating with the dead genre of Nu Metal via music's ouija board. Beginning with the band's end in 2003 Coal Chamber were and always will be a Nu Metal cult favourite. Whatever your opinion on the genre might be, it's undeniable that it's fruition in the mid nineties led to some of the biggest bands of the modern day. Alas Coal Chamber would not survive their ride, with front man Dez Fafara deciding to continue with new band Devildriver. Leading for them to become one of the most reliant groove metal bands on the scene. Deciding to put their differences aside the band reunited for a reunion tour which has eventually led to the present day.
With this release being their first in 12 years it's understandable that listeners might be on their guard. Nu Metal seen as a cheap shot for metal elitists so often, comes with an extreme amount of prejudice from those outside.  The bands foray into the unknown in 2015 opens with the decidedly stubborn "I.O.U. Nothing" where Fafara recites the simplistic lyrics of the chorus along with the signature Coal Chamber stomp. Keeping the pace topped up with "Bridges You Burned" the band tick off the proverbial Nu Metal boxes with the inclusion of a guitar tone that sounds as though it has been dipped in tar, yet with the upbeat bounce of the drums remains alive.
Though there might be classic elements of the band abound in Rivals there is a definitely sense of evolution. The inclusion of tapping on "Another Nail In The Coffin", though sporadic it makes for a fantastic grubby throwback to the days of yesteryear. Not to mention the mid section buzz along with the atonal lead sections synonymous with our dead genre. Yet whilst all this may be happening the band have delivered material that is far more evolved, title track "Rivals" accentuates that sense of the macabre carnival with Dez's slight distorted vocals with the stereotypical creeping use of effects. The sense of groove is omnipresent throughout the new record with the almost hip-hop style bounce in among decaying leads of "Wait" make for a great chorus. With some easter egg's for fans with the appearance of Ministry's Al Jourgensen on single "Suffer In Silence" with Fafara and Jourgensen working in perfect harmony.
Classic use of sampling is in effect with the grimy instrumental  "Dumpster Dive" along with  "Orion" though they may share the same name as Metallica's classic the instrumental couldn't be further apart. Though small sound bytes accentuate that classic sense of what Nu Metal embodied. "Light In The Shadows" again ensures that pace is topped up with that groove laden rhythm, with even Dez sounding similar to our maniacal 1999 Slipknot frontman. Yet shows maturity with the addition of slight melody in the song's chorus, before retreating to the delay driven simple lead lines. The production that Rivals underwent is also worth a mention with Mark Lewis doing yet another exemplary job. Propelling even further the reach of Coal Chamber's monstrous choruses.
Rivals made not be technical or incredibly profound but its big, bold and brash. In a genre that is often picked unfairly by elitists, the band are able to conjure up grooves that would go down a storm live. It has to be taken into context that the band are releasing a new record, twelve years after a genre hasn't almost entirely died out. Playing with conviction Coal Chamber bring an outdated genre in the modern spotlight, no mean feat.  I for one welcome Coal Chamber back. Our Nu Metal ouija board was pointing to the right letters after all and to use the words of Stephen King, "sometimes they come back…"
If you liked what you read / heard then you can pick up the bands brand new album here!
If you think you know Coal Chamber, well then you probably do… Rivals isn't revolutionary but it's a fantastic move into modernity from twelve years ago. Put it this way if you loved the band then you will love Rivals.