2017 : Ushering In The Raven Age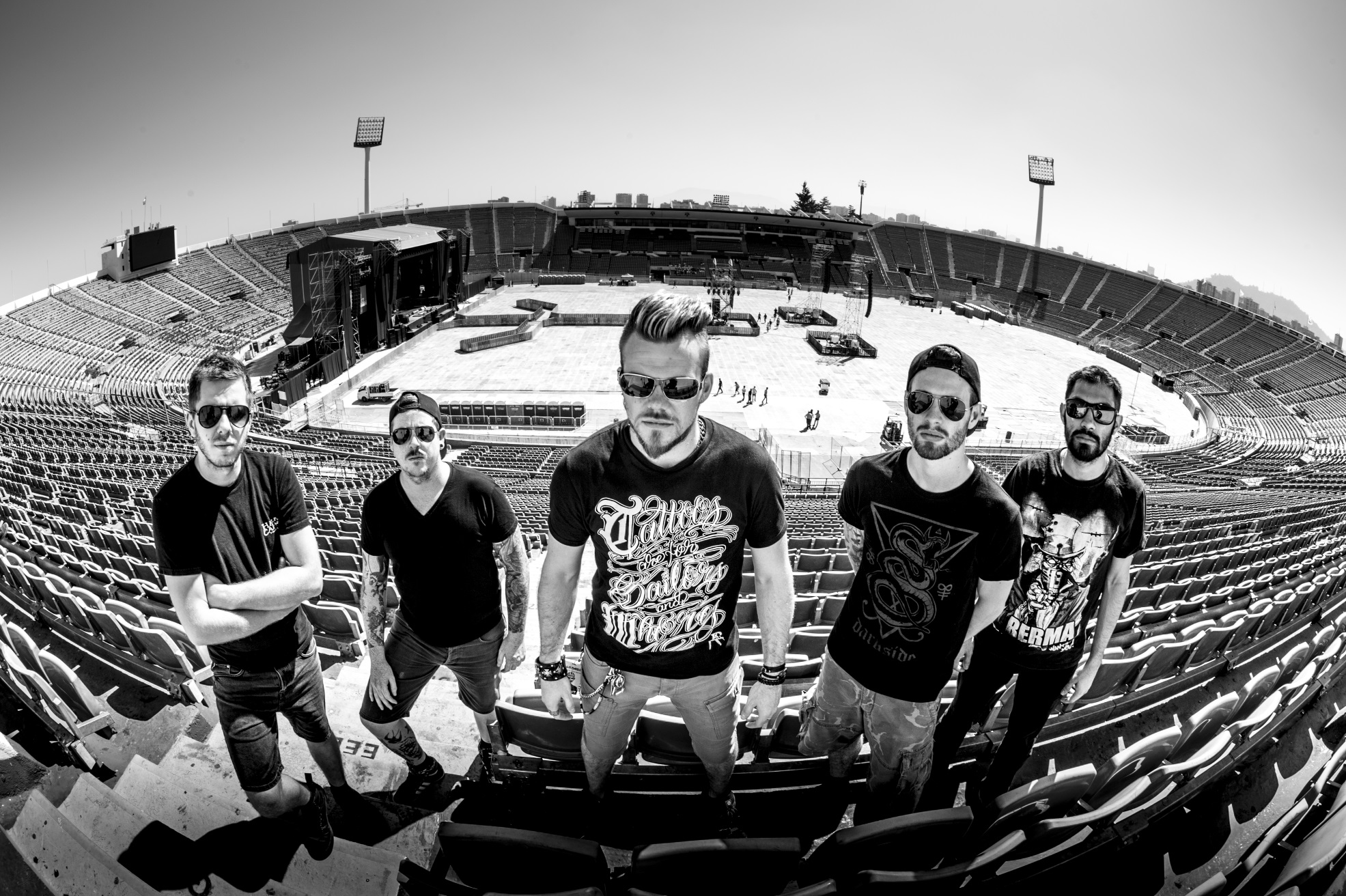 Always going to be mainstays in the Metal world, the likes of Slayer, Metallica et al will forever be immortalised but as we move further into the future, with more and more bands emerging there seems to be a new wave of influence sweeping the nation. Fixing themselves on Metalcore deities both Trivium and Killswitch Engage, two lads from London started a band in 2009. Hard to believe that they would then be opening for Anthrax for a solid month European tour and releasing their debut album on BMG some eight years later! Ladies and gentlemen, we introduce to you The Raven Age.
London born the quintet, perform in their words Melodic Metal. Referencing all manner of elements from life and all it's tribulations.
-Melodic Metal – 
"We call ourselves Melodic Metal. We're kind of a bit of a cross genre I would say, myself and Dan who write the songs. We grew up on Metalcore I guess, bands like Killswitch Enage, Bullet, Trivium, that sort of thing but we didn't want to copy our idols exactly so we brought in the clean sung vocal which adds a bit more of a classic element to it. Myself and Dan started this thing around about 2009, that was when The Raven Age was born. We were just writing songs for ages. We finally formed a band and did our first show February 2013, since then we have brought out an EP and done a few awesome tours"
So what does the future hold for these bright young London lads? Made up of George Harris, Michael Burrough, Jai Patel,
Dan Wright and Matt Cox the boys create a serious racket. Anyone who witnessed the band opening on their most recent tour with Anthrax will support me on that! Aside from releasing their brand new record, that almost ended up being a debut DOUBLE album, the boys will be doing the rounds in the summer in support of their brand new album Darkness Will Rise but first of all there's the small matter of their first official U.K. Tour being with the demigods of Thrash Anthrax! But the boys aren't phased in the slightest.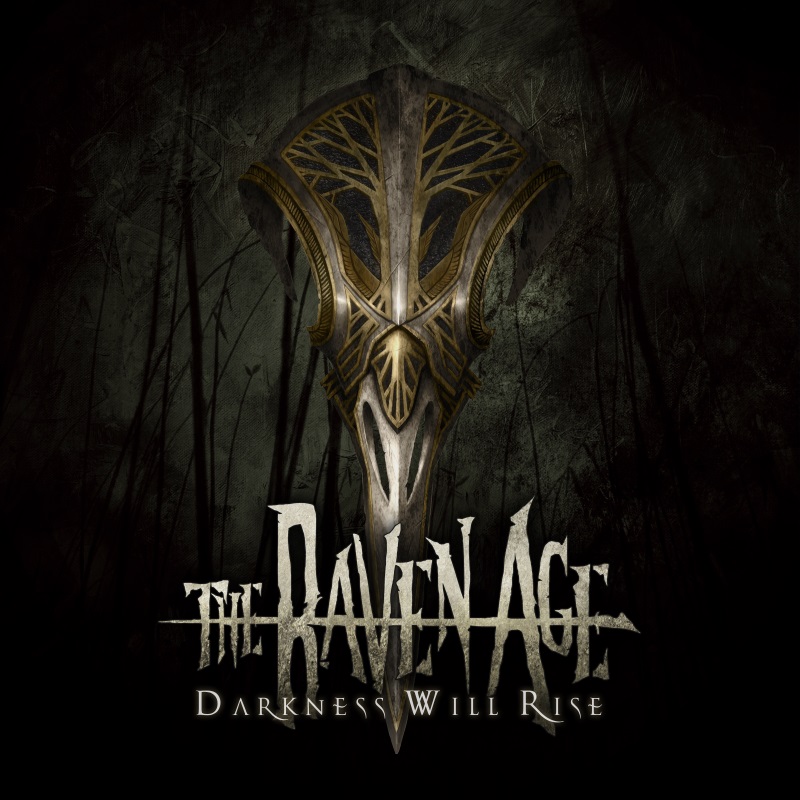 "They're such a world reknown band, its even more special because they're doing Among The Living in full which is cool! All the fans are super hyped up for it so for us to open for them is more challenging for us but it works both ways. I think the crowd are going to be so hyped already, I think if we just do our job right it could go down quite well"
Following in his father's footsteps, George writes lyrics for the songs, whilst performing on guitar all the same. So what intrigues the young lads? A variety of themes it would seem from the more personal to experiences that we might not have had together but share a universal understanding of. In particular the band fancy themselves as historians!
"The lyrics for the band are generally inspired by historical events. Some of the stuff is personal but it relates to an old themed things. Myself and Dan are both influenced by film scores as well. We're actually both about to do this Hans Zimmer masterclass online which has just come out, which I'm really excited about! I guess thats where we pool a lot of inspiration from in our writing. If you look at our album its seventy seven minutes long. It just about fits on one CD, we were thinking we're going to have to go for a double album for our first album! We just love dynamics and try and create as much drama as possible in each of our songs, if its going to be seven minutes then so be it!"
Representative of various different meanings Darkness Will Rise holds several different layers in its artwork. Of course the aim can sometimes be to reel the potential listener in but here there seems to be more than meets the eye. With the Raven adorning the cover acting as a metaphor for the band itself and their new flight, Harris explains
"The Raven Age is derived from the Tower of London. Historically ravens were drawn to the tower because of all the executions going on and they became the guardians of the tower. The legend was that of the ravens ever leave, then the British empire will fall. Darkness Will Rise is about that!"
– Unlikely Historians – 
So not only does the record mean a new step for the band but roots itself in history, a topic particularly close to the band's heart and inspiration for much of their lyrical content. Ranging from stories all over the historical map,. one such referencing the horrific experience that a prisoner of war underwent after making friends with another victim of the Auschwitz agenda the track "The Deathmarch" shows their take on the tale :
"The Deathmarch" is basically about Auschwitz, I read a book an autobiography by a prisoner of war called Dennis Avey and it was about his relationship with a Jewish guy. He was working in the camp and the other guy is on the other side of the fence and he's a captive. It's about their relationship and how they smuggle things together and try to help each other out. They even swap places and stuff like that and it's all about what they go through. The death march is the bit, well, when they march them to their death's! It's pretty brutal stuff but it's just such an interesting story because it actually happened."
Working on different levels The Raven Age aim to center their musical creativity to evoke a feeling of the cinematic. With their debut record almost clocking in at eighty minutes you can see how the band might be bringing a more grandiose sound into more drawn out pieces. Influences ranging from all over the map center the band though some are perhaps less likely than what you would have thought!
"One that is not so obvious to people is Dark Passion Play by Nightwish. I got introduced to that a good few years ago, I had never listened to that style of music before really and I was like wow, there's so much going on with the orchestral side of it. So much melody in there! One of my favourite albums, well I got massively into Killswitch Engage when The End of Heartache came out. I think those two albums together is kind of an idea of what we're like! I don't think if you listen to us and expect to hear Nightwish you won't. It's not as big in the sense of orchestral side of things but more in the dynamic side of things."
Among other things some of Harris' more recent inspirations are the likes of new breed of Metalcore Novelists, who made their mark with their excellent album Souvenirs last year along with the digi-space odyssey that is Avenged Sevenfold's The Stage.
"I've been into a few really! I've picked up a French band called Novelists. Their album Souvenirs. It's kind of more modern, djenty a bit but it the melody and the music was great and the guitar playing was just awesome. I got that album and I've been listening to that quite a bit. Really like the song called "Gravity" from that.

Also I have been listening to Avenged Sevenfold's new album. The first listen, I wasn't too sure but I think it's one of those albums that it's so much to take in that after four or five times listening to the album I started to recognise melodies and all these bits. There's some mad things in there!"
– Taking Flight –
Having hatched out of their egg, birds are of course defenceless. Unable to feed, patiently awaiting the return of their mother to eat. Of course this cannot go on forever and as the time arrives, the chicks must take their most terrifying step yet. Flying the nest, The Raven Age are about to take flight. With their brand new album out, now the group invite everyone in but only time will tell as to how strong this bird's wings are. Though they've started with a pretty strong flap.
"It's the darkness that is the ravens and the rise is them realising that they control. If they leave the whole empire will fall, it's also a metaphor for the band taking our first steps into our career. The album artwork is the Raven skull with a helmet so it's almost like representative of the Raven going into battle and taking everything on."
The Raven Age's brand new album is out now.